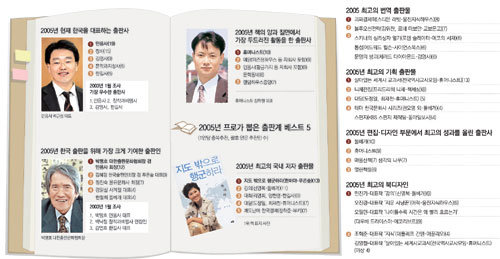 Publishers named Humanist as the most progressive publisher of the year in terms of quantity and quality, Dolbegae in terms of design and editing, and Minumsa as Korea's most representative publishing company.
The awards were based on a survey conducted by Dong-A Ilbo and given to 27 top planning and editing professionals, with a total of eight categories and four overlapping recommendations for each.
Brilliant Young Minds-
For the category of the most progressive company of 2005, relatively new companies with less than five years of experience flourished, like Humanist which got 10 recommendations. Yedam came in second place with nine votes.
Founded by planning editor Kim Hak-won in 2001, Humanist has produced many steady sellers in the humanities sector. Former magazine worker Kim Tae-young established Yedam in 1999, and focused on liberal arts and fine arts in the beginning, but since then has spread to finance, management, and other specialized fields of study.
In third place as Korea's representative humanities and literature publishing company, both Minumsa and Munhakdongne Publishing Corp. received the honors. Random House Joongang (7 votes), Gimm-young Publishers (6 votes), Woongjin Knowledge House, Dolbegae, Prunsoop (all with 4 votes), and Sakyejul (3 votes) followed their lead.
In the design•editing area, Dolbegae received 10 votes and Humanist nine, followed by: Maumsan Books, Thinking Tree (each with 7 votes), Open Books (6 votes), Woongjin Knowledge House (4 votes), Munhakdongne Publishing, and Sakyejul (3 votes each).
For Korea's representative publishing company for 2005, Minumsa (19 votes) was most popular, with Changbi (15 votes), Gimm-young (9 votes), Moonji (6 votes), and Hangilsa (5 votes), following. These companies are all beloved for their history and tradition. In the category of performance in 2005, it was a parade of young companies, but in the aspect of authority and achievement, the reputed publishers held their own.
The Best Publication-
Introspection and Retrospection, Interest in Finance-
The first place for publication went to "The Daughter of the Winds"; Hanbi's tale of passionate volunteering in remote corners of the world, "March Out of the Map" (Prunsoop, 13 votes). This book illustrated the Korean Publishing Marketing Research Institute's keyword of the year "empowerment" vividly, and touched on consummate examples. Empowerment expresses the trend for readers to project their capabilities while enjoying them.
In second place with 11 votes was Sungkonghoe University professor Shin Young-bok's "Lecture" (Dolbegae). Professionals lauded the easy reading of oriental classic interpretation that allowed for the deep retrospect of readers. In the Dong-A Ilbo's book section, the "Book Fragrance" team put together "2005's Top 10 Books" with the recommendation of specialists (refer to December 24 edition of Dong-A Ilbo, page A24). The common denominator between these books is how they give the readers a chance to look back on their own selves in an unsettling era.
For the best translation publication, first and second place both went to finance books. In the lead was "The Deviant's Advantage" (Woongjin Knowledge House, 8 votes) that offers a new way of looking at the economy through discovering secrets in everyday life, and the runner-up was "Blue Ocean Strategy (Kyobo Books, 7 votes)," a book that introduces a new management concept called "Blue Ocean."
Meanwhile, the publishing mogul who contributed to Korean publications most this year was Park Maeng-ho (71), president of Korean Publishers Association and Minumsa. Park led the association and was considered to have launched the October book event in Frankfurt, Germany, successfully.
It is also notable that Eulyoo publishing company president Jeong Jin-suk, who is 93 this year, took third place. With the motto, "Publishing is creating a country," Jeong published over 5,000 works including the "Chosun Language Dictionary" since Independence Day in 1945 and is the living evidence of Korean publications. That these individuals were chosen as this year's publishers can be construed as the young generation's unchanging respect for the elders.
Kwawg-Pyo Lee kplee@donga.com