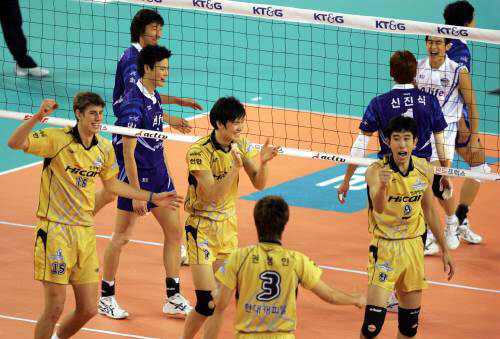 Hyundai Capital stayed on top in the Korean pro volleyball league after defeating its rival, the Samsung Fire yesterday.
Hyundai Capital came out on top, 3-1 (25-21 18-25 25-19 25-21) at Cheonan Ryu Gwan-sun Gymnasium.
Hyundai Capital's record improved to 9-1 with the win, while the Samsung Fire remained in second place with a mark of 7-2. Sean Rooney led the way for Hyundai with 18 points. Hu In-jeong added 15 points.
The Samsung Fire's Shin Seon-ho and Lee Hyeong-du each scored 14 points.
Hyundai Capital seized the initiative in the first set, helped by aerial strikes from Hu In-jeong and Rooney. Hyundai Capital won the set after taking a 15-11 lead thanks to successful attacks from Hu, Rooney, and Jang Yeong-gi.
But Hyundai dropped set two after falling behind 6-11, thanks to the play of Samsung's Jang Byeong-cheol and Shin Jin-shik.
In the showdown that was set three, Hyundai Capital trailed Samsung, 2-4, but soon caught up owing to Lee Seon-gyu and Rooney's successful attacks, and finally came back to take a 10-7 lead, helped by Rooney and Jang Yeong-gi's attacks and a host of Samsung errors.
Hu In-jeong, Rooney, and Lee Seon-gyu kept up the pressure for Hyundai and gave their team a 22-16 lead. Hyundai then fought off Samsung in set four to take the match, 3-1.
At Park Jeong-hi Gymnasium in Gumi, the amateur invitee Korean Electric scored a come from behind victory over LG Fire after giving away two prior sets. The other amateur invitee Sangmu beat KAL by 3-2(25-21 19-25 19-25 25-22 15-10) in Masan, making sure the day belonged to amateurs.
Won-Hong Lee bluesky@donga.com