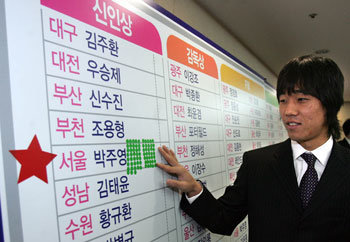 FC Seoul's Park Ju-yeong (20) was awarded the 2005 K-League's Rookie of the Year award by 73 reporters who unanimously voted for him on December 12.
"Thank you for the rookie award. Lee Cheon-su said he deserves the MVP because his team did better," Park said. "That is understandable, but I played well too and am satisfied with the results."
Park implied that he had no intension of yielding the league MVP award that is to be announced on December 28 to rival Lee Cheon-su (Ulsan).
Most of the questions directed toward him were on the upcoming 2006 Germany World Cup. Park, who is considered the Korean national team's next-generation striker, said, "Togo and Switzerland, who belong to the same group as Korea, are not to be taken lightly, since they beat strong teams to get to the main round."
Park talked about the Swiss team with a degree of familiarity from his experience with it during his days on the youth national team, saying, "Their four-back defense works like a tightly woven curtain. When you take Switzerland`s power and speed into account, they are clearly on our level. But we may be able to take advantage of the spaces their four backs leave open."
Park also expressed his desire to make the national team's starting lineup, saying, "I would like to get noticed by Dick Advocaat in the upcoming winter training camp and be able to play in the World Cup main round."
Jang Oi-ryong (46), the manager of Incheon United, took the league's Manager of the Year award by a 35-34 vote against Hyundai's Kim Jeong-nam (62). This is the first time the manager of a second-place team has won the award.
Won-Hong Lee bluesky@donga.com