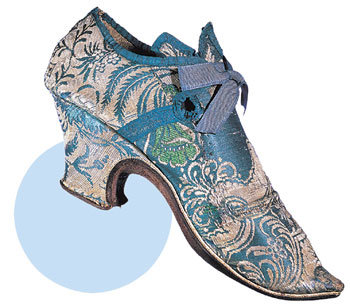 As some say that shoes make up for clothing, shoes are the completing point of fashion.
In particular, for modern women, for whom the term "shoeaholic" was minted, shoes mean more than simply fashion.
In the past, many psychoanalysts viewed glimmering and shinning shoes, located at the lowest part of the body, as a symbol of sexuality bonded by beauty and desire.
The character played by Sarah Jessica Parker who is the main character of "Sex and the City," a popular TV show about four single female New Yorkers, changes boyfriends more often than shoes and is a shoe fanatic who will yell, "Please not the shoes," if a burglar comes to her house.
Madonna once claimed that shoes are better than sex, and Marilyn Monroe once praised high heels, and that all women owed much to high heels.
Chelsea Boots, once worn by the Beatles, became a huge fad to young people across the whole world.
The book "Shoes" deals with the history of shoes. It is micro-history about the shoes and shoe accessories that have been popular from medieval times to modern society.
In an era where social classes were clearly divided, shoes were the most symbolic method to display one's class. In the middle ages, there were laws that limited the length of one's shoe points, and in the Renaissance period, nobles wore overshoes to protect their shoes from filth and mud.
With classes abolished in the French Revolution, shoes rid themselves of lavish accessories. Summer sandals are a by-product of the French Revolution.
Women's obsession with shoes is the same now as it was in the past. Fourteenth Century women wore high heeled shoes even if they faltered, and 18th Century women wore narrow shoes, even if it twisted their toes.
The book also deals with diverse shoes and their origins.
Slice patterns, a method used to make the outer look of leather shoes smooth, originated from slice marks in armor during war under the rule of Henry VIII.
Boots were made in the 17th Century for Charles the First so he could ride horses.
The author is the fabric and clothing curator of the Victoria and Albert Museum, famous for being the largest museum of decorative arts in the world.
About 90 pictures of diverse and glamorous shoes owned by the museum are included in the book, to add graphic effects.
Mun-Myung Huh angelhuh@donga.com