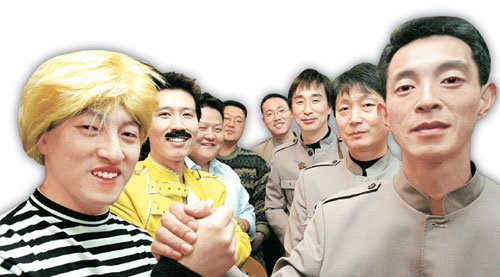 In a building in Mapo-gu, Seoul at 10:00 p.m. on November 23, the hit song, "We are the Champions" by the British band Queen could be heard throughout the quiet neighborhood.
The sound came from a studio in the basement of a building. Inside the studio, a man with a moustache and a yellow jacket and white pants was singing. His look and his singing technique were comparable to that of Queen's lead vocalist Freddie Mercury.
In one corner of the studio, four men dressed up like the Beetles with high heels and sheriff jackets, were talking with one another.
"It's already 10:00. I feel like singing. We should get started."
"We sold six tickets so far, and three of them are sold to people I know."
They couldn't possibly be real. With wrinkles and big bellies, they were definitely office workers. They are the two bands, the "0 Vueen band" and "The Apples," which are workers' tribute bands.
They will hold joint concerts, "Rock Fried Beatles versus Queen," on and off once or twice a month from November 26 to May 27 of next year in Chaplin Hall at Cinecore, Seoul. With four members on each team, they are not at all interested in winning nor do they feel rivalry. They are just glad that they can play music after work.
Jung Kwan-hoon (29, 0 Vueen band, electric components engineer)-
"I started a Queen group at a PC communications service, Nownuri in 1997. I met all of the members then. At first, we were just a group of fans; however, one day we decided to form a band and sing Queen cover songs in 2000."
Pyo Jin-in (39, The Apples, psychiatrist)-
"My brother, Joon-hong, and I were Beatles maniacs since we were high school students. One day, my brother saw a performance of the 'Get back Band,' a French Beatles tribute band, and said, 'why not us'? That's how we formed our group. My brother left the band afterwards, and I met two people on the Internet and formed our band in 2002."
A tribute band is a musical group created in order to specifically play the music of a well-known band. The aim of tribute bands is to perfectly imitate a specific band from its music all the way to its fashion. The members of the 0 Vueen band and The Apples must carry on two different lives for they are not professional musicians; they are quiet office workers during the day time and passionate musicians by night.
Ahn Chul-min (32, 0 Vueen band; trading company employee): "Since my parents do not know I'm in a band, sometimes they see me take my bass guitar out and I get in trouble. They tell me to stop playing and get married."
Kim Jun-hong (44, The Apples; construction industry businessman): "My wife did not know about the band when I first started. I used to tell her that I was going hiking when I went to practices on Sundays. I still buy expensive musical equipment without her knowing. It surprises me to see that my third-grade son likes John Lennon more than I do. What if my son decides to join a band?"
"0 Vueen band" is a literal Korean translation of Queen. They invented a new word by taking the Q out of queen and changing it to the number 0 (pronounced "young" in Korean) and v to make the word "0 Vueen."
"The Apples" got their name from the record company the Beatles established. Their co-workers envy them, but they have problems of their own.
Shin Chang-yeop (31. 0 Vueen band; semiconductor engineer): "The most difficult thing is to set a time when everyone is available. We practice for hours after work, so it can get physically exhausting."
Jeong Woo-chul (36, The Apples; restaurant manager): "Music should not have a certain way it has to be played, but the music that we do, has a certain way. If we can't play exactly like them, we have to brace ourselves to be booed."
However, they all say, "When the lights turn on and we hear the shouts from the audience, all our stress from work dissolves."
Jeon Hong-seok (30. 0 Vueen band; sound engineer): "We may be an amateur tribute band, but for six months, we are determined to show you Queen, and maybe even a better version of Queen."
"The Apples" said to this: "Confident aren't they? Go Apples!"
bsism@donga.com