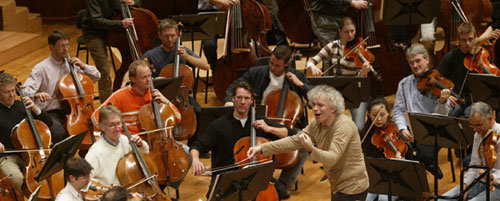 Prominent social figures, including Cardinal Kim Soo-hwan and Prime Minister Lee Hae-chan, as well as Justice Yoon Young-cheol, Minister of Maritime Affairs and Fisheries Oh Keo-don, Minister of Justice Chun Jung-bae, Chairman of Presidential Committee on Judicial Reform Han Seung-heon, Chinese Ambassador to Korea Ning Fu-kui, Chairman of the Financial Supervisory Commission Yoon Jeung-hyun, Minister of Office for Government Policy Coordination Cho Yeong-taek, Presidential Secretary for Public Relations Cho gi-suk, and President Roh Moo-hyun, along with his son and daughter-in-law, attended the performance.
After the first curtain for Beethoven's "Eroica," Cardinal Kim drew attention when he shook hands with Prime Minister Lee Hae-chan. Last month, the prime minister created a stir when he accused Kim of a political remark regarding the identity crisis of state affairs at a press conference.
Rehearsal starts at 10:00 a.m.-
The members of the Berlin Philharmonic began rehearsing at 10:00 a.m. yesterday at the Concert Hall in Seoul Arts Center. A total of 123 members and 16 visiting performers practiced Beethoven's "Eroica," as well as Berlioz's "Le Corsaire - Overture op. 21," and Ravel's "Mother Goose." The rehearsal was open to observers from joint sponsor Dong-A Ilbo, SBS, and the Kumho Cultural Foundation. Berlin Philharmonic officials were sensitive to even the slightest camera shutter sounds.
Meanwhile, the performers of the Berlin Philharmonic were busy during the day touring Seoul. Conductor Simon Rattle and other philharmonic members decided to experience the traditional beauty of Korea at Biwon (Secret Garden).
Filming a Documentary Movie-
The Berlin Philharmonic filmed the concert for their "Trip To Asia: March to Peace" documentary on their Asia road tour. Staff members from Boomtown Media, a film production company, took shots of the performance from inside a sound box.
As a part of its campaign to introduce music through film, the Berlin Philharmonic will release their Asian tour movie on its 125th anniversary in 2007.
Seung-Hoon Cheon raphy@donga.com