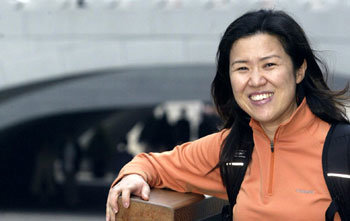 "When I climb the mountains, I feel at ease. When I am down here, I have so many things on my mind that I want to leave for the Himalayas."
Oh Eun-sun, Korea`s leading female mountain climber (39, Yeongwon Trade, Suwon University Alpine Club), said that she wants to go back to mountaineering as soon as the interview began. Oh became the first Korean woman ever to climb all seven summits of the continents after reaching the top of the Mount Vinson Masif (4897m above sea level), the highest peak in Antarctica on December 20, 2004. After Heo Yeong-ho (1995), and Park Yeong-seok (2002), she is the third Korean and 13th woman climber in the world to climb all seven summits.
Her First, Unforgettable Encounter with Everest at 27-
Oh joined an alpine club in her first year in college but, because of her strict father, a career military officer, she wasn`t allowed to go out on overnight climbs and had to satisfy herself with climbing mountains that were nearby. After graduating college, she worked as a government official in the Computerization Division of the Seoul Metropolitan Board of Education. While working, she entered a "Women's Everest Expedition Contest" organized by the Korean Alpine Federation in 1993. When she was selected as one of the 14 team members, she quit her job without hesitation and left for Mount Everest.
At the time, three climbers including Ji Hyun-ok (who went missing while climbing Annapurna in 1999) succeeded in climbing the peak, but as a junior member of the team, Oh wasn't given a chance to be included in the group that climbed to the top.
Working odd jobs to fund her mountaineering dream
The encounter with Everest in 1993 drastically changed Oh`s life. After returning home, she started working as a private tutor to allow herself more time to climb mountains. In 1999, she opened a pasta restaurant in Suwon and cooked for herself for a year and three months. "I wanted to earn money for a mountain-climbing expedition," she said, smiling. "But managing the restaurant didn`t generate much profit."
Eleven years after her first encounter with Everest, she became the first Korean woman to succeed in climbing the world`s highest peak by herself. She lost three fellow climbers, including her close friend Park Moo-taik (Keimyung University Alpine Club) during her ascent, and she had a near death experience due to a lack of oxygen. However, she said, "I realized my life's dream as a mountaineer."
Conquering the highest peaks on five continents-
Oh experienced her first 8,000m peak by climbing Gasherbrum II (8035m) in July 1997. Afterwards, she joined an expedition led by Park Yeong-seok (42, Director of Goldwin Korea, Dongguk University Alpine Club) as the only female member, and climbed Broad Peak (8047m, 1999), Makalu (8463m, 2000), and K2 (8611m, 2001). Her mountaineering capability became known when she made a solo climb to the top of Mt. McKinley (6194m), the highest peak in North America, in May 2003, a first for a Korean woman.
In 2004, she climbed the five highest peaks, including Mount Everest and set a record for climbing the seven peaks in the world over a short period of time.
No time for men-
Oh is still single. When asked, "Are you married to the mountains?" she replied, "It`s not that I don`t like men, but I just don`t have time for men."
Her current goal is to lead an all-women expedition to K2. She pointed out that "this is not only a matter of expenses, but also of aptitude in mountaineering and strength in mentality, so I`m closely eying several prospects from the younger generation."
Chang Jeon jeon@donga.com