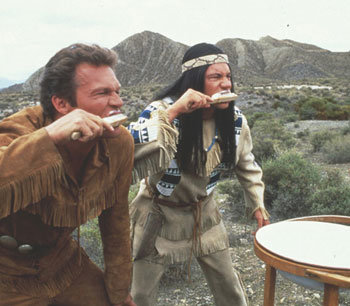 "Manitou in the West" is an exceptional and a striking western movie. The movie, which will be showing at the Cinecube, Seoul, follows the rules of western movies up to the point that common characters such as an Indian, a lone gunman, and an outlaw appear in the movie. Other than that, it twists all the formulas of a Western movie to present a rare western comedy that throws the audience into fits of laughter with unexpected plot twists and sheer nonsense.
The fact that this movie is made by Germans, who are known for their seriousness, and the fact it was a big hit in Germany, recording 12 million viewers when it hit the screens there in 2001, are also interesting. Michael Herbig, who wrote, produced and directed the film, played two different roles in the film, epitomizing the meaning of a versatile talent.
The backdrop of this movie, which was filmed in the south of Spain, is the 19th Century American West. However, the movie completely ignores that period's reality or historical circumstances. Abahachi (Michael Herbig), the last chief of the Apaches, and a white gunman Ranger are sworn brothers. For the revival of the tribe, they try to open a tavern from money borrowed from the rabbit tribe, but, they are deceived by the scoundrels and lose the money. To pay back their debt, they go on an adventurous journey to find the treasure map of Manitou which Winnetouch, the twin brother of Abahachi, and his old friend have divided and kept.
A gay Indian who likes bright pink, a villain who is more handsome than the hero and good at dancing and singing, and situations which are in touch with everyday life of modern society such as a cowboy in the Wild West being stopped for speeding and drinking drive the audience to laughter.
Don`t rush to leave the seats at the end of the movie. There are hidden scenes after the closing credits. The film opens on October 28 and is rated for viewers 12 years and up.
Mi-Seok Koh mskoh119@donga.com