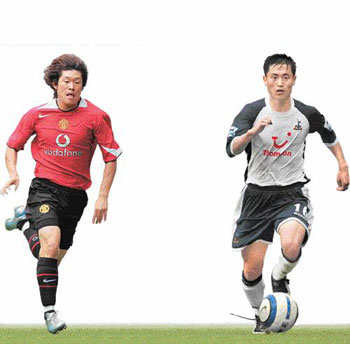 Who ever imagined that two Korean soccer players would be facing off in the Premier League?
This spectacular match will be held tonight. Park Ji-sung (24, Manchester United) and Lee Young-pyo (28, Tottenham Hotspur) will be playing against each other on Manchester's homeground, the Old Trafford, at 11:00 p.m. on October 22 (Korean time). Even the Europeans are excited about this match. Oliver Kay from The Times emailed a reporter in Korea asking, "I would like to write a story about the match between Park Ji-sung and Lee Young-pyo. How excited are the Korean fans?"
Goal.com, a website devoted to soccer, reported, "The Premier League ordinarily would interest only the most dedicated of the sport's followers in Korea. Not this weekend, as the South Koreans have the bonus of two of their most famous sons battling it out in the northwest England."
The two players, who were both at PSV Eindhoven, will literally go head-to-head in this match. Park is a right midfielder and Lee plays left defense. Their positions will constantly put them in contact throughout the game. Lee said, "The goal of the game is to win. I want Ji-sung to play well but the most important thing is for my team to win." Park also said, "I am also looking forward to this match against Young-pyo, but we are both playing this game to win."
The rivalry between Tottenham and Manchester is also just as exciting as the match between the two Korean players. Chelsea is in first place with nine wins (27 points), closely followed by Tottenham (five wins, three ties, one loss, 18 points) ranked second and Manchester (five wins, two ties, one loss, 17 points) in third place.
Jae-Yun Jung jaeyuna@donga.com