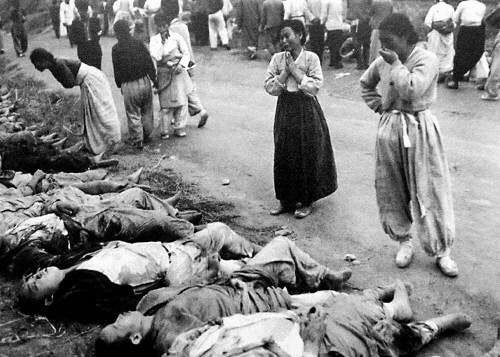 The Korean War was one of the most tragic events in Korean history, but the voices of the survivors are too often ignored. The truth of the matter is research, up to now, has focused on who started the war.
But the Korean War goes beyond a dry set of recorded facts; it takes form in the shape of vivid memories that breathe life into the world we know today. It's been over a half a century since the war, but people still share "secret" stories based on their memories.
War and Memory, a book written by Kim Kyeong-hak and three others, is a book of these memories in the form of stories from war survivors. Difficult to officially organize, they have been compiled into one book by academics of the Honam Cultural Institute, Chonnam National University.
In 2003, the authors emphasized the need to bring down the viewpoint of the war from nation to individual through their book, "War and People: The Korean War from the Grassroots." This time, they illustrate various cases to prove their point. In meticulous field interviews, the writers have researched what happened during the war, what survivors remember, and how their lives changed.
"In wartime, you don't want to be smart about things or else you'll get hurt. Even if you know things, you stay quiet. That's the hard part of it, you know, but you stay put. How easy is that?" one survivor recounted.
This is the language of more than half a century ago, but it doesn't sound odd even now. Perhaps it's the fatigue that comes from the prolonged psychological warfare that characterizes the stale ideology conflict between North and South Korea, minus the bullets and corpses.
The memories of war heard first-hand add flesh and blood to the realities of war. The wartime massacres were not just about ideology, they were about households, feuding families, staying in the good graces of others, and so many other factors.
"Enemies ain't far off; they're the folks you close with. The conflict you can't see between neighbors is downright scary. What's scary is when the world is confused. So it's better if you live peacefully with 'em, no hard feelings. You never know when Korean War II will roll around again," recalled another survivor in the book.
Memories are subjective. The book explains how the same events might be warped with age, status, gender, and how memories fade and become processed with time. The line between victim and villain is very thin. Incidental or freak deaths are mystified. This is why, when you flip the book to its back cover, you wonder how much of our "past" can really be vouched for.
Mun-Myung Huh angelhuh@donga.com