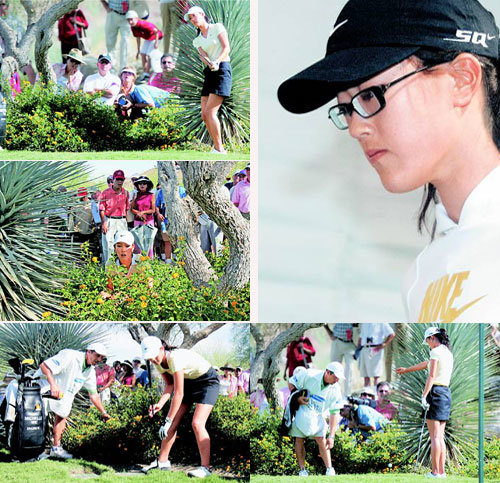 It was a harsh debut that will never be erased from her memory.
The teenage girl, who was happy with all the attention, held her head low and cried.
The LPGA Samsung World Championship ended in the Canyons Course (par 72, 6,634 yards) of the Big Horn Golf Club in Palm Desert, California, on Monday.
"Golf genius" Michelle Wie, 16, seemed to have made a great debut as a professional, finishing fourth and hitting an 8-under 280 despite the horrible weather with thunderstorms and lightning that suspended four rounds of play for three hours on three occasions. Wie won praise for leaving a strong impression with a superb debut after signing a $10 million sponsorship contract. She was enjoying her belated 16th birthday party at her grandmother's place when the bad news came.
The competition committee gave her the devastating news after the fourth round had finished that she had been disqualified. After declaring "unplayable" at the seventh hole (par 5) in the third round on Sunday, Wie dropped the ball at the wrong point, said the committee. This is a violation that carries two-shot penalty, but her score was recorded as a "par" instead of a "double bogey" on her scorecard.
Michael Bamberger of Sports Illustrated who followed the game notified the LPGA, which analyzed the tape and verified the problem.
The disqualification took away her fourth place finish and $53,126 in prize money.
The usually confident Wie hid her puffy eyes behind shades and told reporters at a press conference, "I learned a great lesson. From now on, I`ll call a rules official no matter where it is, whether it`s 3 inches or 100 yards. I respect that.``
Meanwhile, Sweden's Annika Sorenstam won the competition, hitting an 18-under 270. This was her second consecutive and fifth overall victory of the competition. Sorenstam is now tied with Mickey Wright of the U.S. for the number of victories in a single competition. Wright set the record at the Sea Island Invitational in 1963.
Taking home $212,500 with her eighth victory of the season, Sorenstam is set to become the top prize money winner this year and the player of the year.
Jong-Seok Kim kjs0123@donga.com