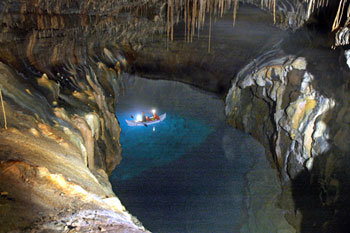 Explorers have discovered a lake containing salt in Yongcheon Cave in Woljeong-ri, Gujwa-eup, Bukjeju-gun, Jeju Island. The cave has been provisionally designated as a natural treasure.
According to the Jeju Island Cave Research Institute (Director: Sohn In-seok), the lake is seven to 15 meters wide, six to 15 meters deep and 200 meters long, and is located approximately 2.3 kilometers north of the entrance of the cave. Given that the lake is 100 to 150 meters away from the seashore, it is estimated that sea water might have come in through the cave.
The Cultural Properties Administration (CPA) will finish basic academic research on the cave and officially designate the Yongcheon Cave as a natural treasure by the end of the month. The Yongcheon Cave was discovered in May during an excavation to replace telegraph poles.