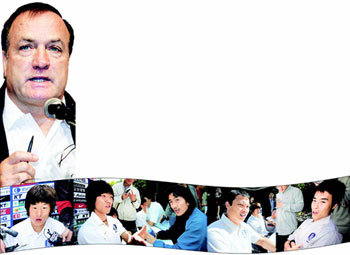 Judging from their answers at a press conference at the Seoul Grand Hilton on October 11, the Korean national soccer team reflects the soccer philosophy of Dick Advocaat, their new coach.
The conference adopted an unusual format with players sitting at seven different tables (three at each table) to take questions from journalists.
"Completely different"; "His practices are short but tough"; "He is a reliable person"; and "He makes me feel like I can make it," said some players about their new coach.
All of the players seemed confident that they will be main players in the hunt for the 2006 World Cup in Germany, and seemed determined to faithfully follow their coach.
A soft but powerful charisma-
Kim Jin-kyu (Jubilo Iwata) said, "Our coach is soft, but authoritative. While we are in a training camp, he makes us lead an easy life, but sticks to principles. He gets furious when we appear too relaxed during training." Choi Jin-cheol (Jeonbuk), a veteran player, said, "Training sessions are short but tough. He keeps them short so that we can better concentrate on training. His has a similar style to Hiddink's." Park Ju-young (Seoul) said, "He makes us feel mentally strong and tense."
In search of aggressive play-
Park Ji-sung (Manchester United) said, "Advocaat emphasizes pressure. In particular, he stresses forward players' movements around the goal posts and defense." Park Ju-young agreed, saying, "In short, he is focusing on the attack." Lee Cheon-soo (Ulsan) said, "Forward players also have to run. He has warned that he 'will take action if forward players do not defend.' From what I have seen in training camp, I believe that somebody among us has to quit the team. He leads us to play harder."
A prepared leader-
The conference including all the players had been planned before Advocaat came to Korea. Kang Shin-woo with the Korea Football Association said, "He asked us to organize a conference on the day he arrived."
Advocaat said in the conference, "The media are a part of the national team, too. They link the team and the public. I plan to have these kinds of events in the future."
Assistant coach Pim Verbeek told the players before the conference began, "This is also part of training. Don't envy other players for having many journalists around them. The same thing will happen to you before long."
Kang said, "Advocaat already knew about our players. He seems to have plans for what he should do. He is an extraordinary coach with much experience training internationally competitive teams."
Advocaat talked about his soccer philosophy as well, saying, "What matters is discipline. Players must be aware of what role they should play based on their position. Our team should be able to beat strong teams. That is my soccer philosophy."
Won-Hong Lee bluesky@donga.com yjongk@donga.com