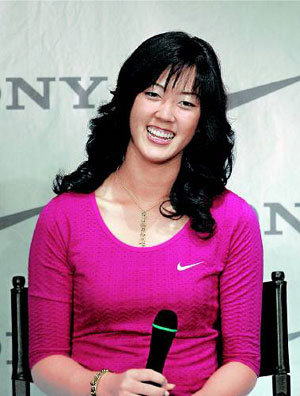 Dressed in a pink knit sweater and glittering accessories, Michelle Wie did not hide her excitement when she said, "I am so happy to tell that I am becoming a professional player starting today."
"When I first grabbed a golf club at the age of four, I felt like golf was going to be the whole of my life. Now that dream is coming true after 12 years," she said.
Michelle Wie opened a new chapter in her career, with all eyes on her, the way the "Emperor of Golf," Tiger Woods (U.S.) did when declared his professional debut by saying, "Hello, world."
The press conference, which was broadcasted live across the United States, was attended by Chairman Bob Wood of Nike Golf and Mike Fasulo, the chief marketing officer of Sony, demonstrating Wie's new status.
It was reported that Michelle Wie will be receiving more than $10 million a year from sponsorships with Nike and Sony. A long series of sponsorship contracts are also likely to be made in the future, from which she will earn tens of millions of dollars.
With a highly successful career already behind her while just in her teens, she donated 500,000 dollars to help victims of Hurricane Katrina, saying, "Now I am in a position where I can help others."
An 11th grade student at the Punahou School, Hawaii, Michelle Wie announced that her "plan to study business administration at Stanford University," just like her role model Tiger Woods, "still holds good."
Michelle Wie, who is going to be 16 on October 11, will play her debut match as a professional in the Ladies Professional Golf Association (LPGA) Tour Samsung World Championship, which is to be held on October 13 at the Big Horn Golf Club in Palm Desert, California, U.S. Next month, she will participate in the Japanese Golf Tour Open (JGTO) Casio World Open for a cross-gender match.
Next year, when she will be kicking off her career as a professional player in earnest, Wie is expected to take part in various major overseas tournaments, not to mention the U.S. LPGA Tour and the U.S. Professional Golfers' Association (PGA) Tour, receiving hundreds of thousands of dollars in invitation fees.
The "Millionaire Girl" is going to have a busier time from now on.
Jong-Seok Kim kjs0123@donga.com