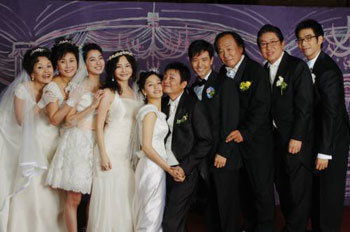 The phrase "a good wife and wise mother" is no longer the ideal model for a woman nowadays. In a world where women's' rights are respected and their advancement in society encouraged, the traditional good wife and wise mother model is equivalent to unilateral sacrifice and subordination for an increasing number of women. Then to modern girls and guys, is the traditional model no more desirable?
A new TV drama poses this question to us. A new weekend drama of Munhwa Broadcasting Corporation (MBC) titled "Will You Marry Me" offers the opportunity to think about what a good wife and wise mother model means in the modern world.
It tells an enjoyable story of ordinary women of marriageable age, their worries, weddings, and marital lives, and describes what the position and meaning of a woman in a family can be.
A 33-year-old Hong Na-young, a vain old maid, is a manager of a wedding promotion agency. Being almost mid-thirty, she often gets stressed because others pressure her to get married. When determined to do something, she sticks it out, and her life dream now is getting married. Although she is admired by others to be successful in her career, she secretly dreams of being a good wife and wise mother.
Her character is played by Kang Seong-yeon (29) in her return to the screen 20 months after she took part in "The Boss," a Korea Broadcasting System drama. "When I read the script, it felt like my own story. I'll try to show a candid story of women of marriageable ages," she said.
The drama doesn't only tell the story from the female side. Marriage is just as momentous to men as it is to women. Actor Yun Da-hoon (42) represents men's view about marriage in the drama. His comeback is also a long-waited one. He hasn't appeared on TV since 2003 when he was involved in a violence case.
His role is 37-year-old bachelor Jeong Jae-won, a manager of the sales department at an import car dealer. Being a braggart and show-off, his life's dream is marrying a girl of "good qualifications." One day, he meets Na-young on a blind date arranged by a matchmaking agency. Despite the disapproval of their families, they get married.
You may think this gives away the story, but this part is just the appetizer. The main menu, their exciting life as a married couple, is waiting.
"I really hoped to be able to act again in front of a camera," Yun said.
Along with the main characters' story, an obstetrics intern, Jeong Jae-jun (Bae Su-bin), who dreams of being a good husband and wise father, and Kwon Eun-son (Lee So-yeon), a colleague of Na-young, show their own marriages to be more cool-headed and realistic.
zozo@donga.com