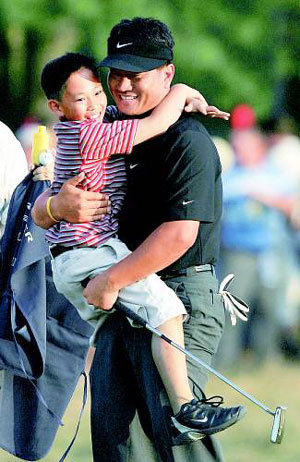 The young island boy nursed a grand dream as he grew up by the sea, so he is rarely shaken no matter what hardship befalls him. In fact, he seems to have acquired the wisdom to enjoy the joy that comes at the end of suffering.
KJ Choi (Korean name Choi Gyeong-ju, 35, Nike Golf), a native of the small island of Wan-do in Jeonnam Province, has become a representative name among Korea's golf stars.
On October 3, he took the champion's title in the PGA Tour's Chrysler Classic (total purse: $5,000,000), held at the Forest Oaks Country Club (par 72) in Greensboro, North Carolina, with a total score of 22-under-par 266.
Until this moment of triumph, Choi's year had been an obstacle race of hardships.
He fell into a slump while struggling to adapt to a newly-adjusted swing, and the clubhouse of his sponsor Nike, with which he signed on in early 2005, was as unfamiliar as could be.
He had competed in all of 21 tournaments as of the end of September but made the top 10 in only two. In the eight most recent tournaments, he was edged out of even the top 40, while his winnings ranking plunged to 87th place overall. Voices of concern regarding his poor performance began to grow louder.
But KJ Choi was undaunted. When he visited Korea briefly in May to play in the SK Telecom, he was calm and relaxed, saying, "Wait just a little bit longer. I'll have great news for you by the end of the year." He silently fell to the work of elevating his precision and finally made good on his promise.
Choi's win at the Chrysler Classic is doubly precious for the fact that it signals his triumph over an enduring slump, often cited as the most feared enemy for sports players. American Robert Gamez, winner of last week's PGA Tour Texas Open, saw a decade and a half go by in vain since his two-win season in 1990 before he could achieve win no. 3.
For Choi, his third win came three years after he recorded his second win in 2002. He has now found a firm foothold outside of Korea as Asia's no. 1. The impression he made at Greensboro was even more striking because he succeeded in pushing Japan's pride Shigeki Maruyama, who was angling for this fourth overall win, down to second place. Choi's world ranking has now risen from 47th to 30th, the highest for an Asian player.
By nabbing the top honors in the Chrysler Classic, Choi became the recipient of $900,000 in prize money—the most he's ever won—and saw his season winnings balloon to $1,711,937 (33rd overall). This sum rivals that of Sweden's Annika Sorenstam ($1,957,200), who is currently no. 1 in total winnings in this year's LPGA Tour with seven championships under her belt. While the Korean women have won a combined five victories in the LPGA Tour this season, Choi is making his presence felt in the PGA Tour. "I need to achieve a better record in order to pave the way for the younger generation of Koreans who want to break into the U.S. stage," Choi said.
Jong-Seok Kim kjs0123@donga.com