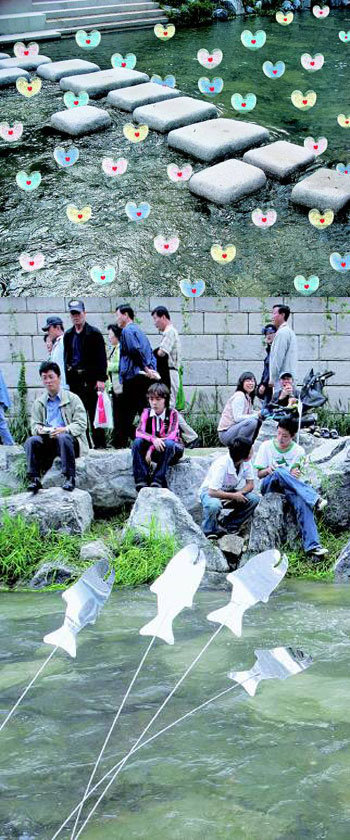 Design Made 2005: Special Exhibition in Cheonggyecheon-
Cheonggyecheon will be redecorated as a design showcase for "Design Made 2005: Special Exhibition in Cheonggyecheon," an exhibition co-hosted by the Seoul Arts Center and Dong-A Ilbo.
Designers from home and abroad will transform Cheonggyecheon into a meeting and resting place in the heart of the city. An event which will be held on Mojeongyo and Jangtonggyo Bridges until October 25 will show the transformed nighttime landscape of Cheonggyecheon and will focus on image, lighting and graphic works.
Chris Kabel, a Dutch designer, floated nine transparent convex disks 60 centimeters in diameter on the water of Cheonggyecheon. On the river floor underneath the disks, water plants made of optic fiber were laid. If you look down the river from the bridges, you feel like you are watching the scenery inside the sea, seeing the water plants floating beneath the disks.
The "Propose Zone," by Nanan and Bong Guk-hwan, Korean designers, features about 200 balloons floating on the water. Those balloons are heart-shaped and two times as big as an adult's palm. Illuminators were inserted into them. It was designed to turn Cheonggyecheon into a romantic place for lovers and friends.
"Yeop," a design project group composed of graduates from the Department of Sculpture at Ewha Woman's University, covered the outer wall of the Cheonggyecheon PR center set up near Jangtonggyo Bridge and the Hanhwa Group building with black tape, thereby making it look different.
"Time Scape" by Byeon Ji-hoon and Yi Ji-hoon will capture people on camera as they walk around Cheonggyecheon and show footage on a screen installed beneath the Gwanggyo Bridge.
Sponsored by Whisen. For more information, contact: 02-2020-0859/02-580-1497
A Walk in Cheonggyecheon-
At "2005 a Walk in Cheonggyecheon – Visible or Invisible," an exhibition which will run until October 30 at the Seoul Museum of Art, a miniature waterway has been set up in the center of the exhibition hall on the first floor, and artworks were arranged on both sides of it to let visitors feel the ambiance of Cheonggyecheon. It was designed to let visitors feel the changes and the future of Cheongyecheon through the displayed artworks while feeling like they are walking in Cheonggyecheon once in the exhibition hall.
Artworks that the "Visible" section feature include Gwon Jeong-joon's work made up of 1,200 photos, Park Jeong-soon's pinwheel installation set up on green artificial grass, Kim Hyeon-ho's installation. Kim Hyeon-ho's work features nine regular square boxes filled with water. Rocks from Cheonggyecheon have been put on the surfaces of the boxes and vibrations send the rocks shaking.
The "Invisible" section of the exhibition sheds light on invisible values of Cheongyecheon that we are apt to overlook. Yi Soon-ju paints a view of newly born Cheonggyecheon on the concrete debris from the old Cheonggyecheon. Lim Sang-bin's photo works combines the view of Cheonggyecheon in 1905 with historic figures. Installations by "Flying City," an ingenious and vigorous project group, titled, "Cheonggye Mini Exposition," will be also on display.
Contact 02-2124-8928 for more information.
City Landscape Exhibition and Photo Exhibition-
Oh Yong-gil, a professor of Ewha Woman's University, will hold a "city landscape exhibition" until October 20 at the Sun Gallery, Insa-dong, Jongno-gu, Seoul. Oh is famous for landscape painting featuring splendid flowers. In one of his ink and light color paintings, the painter depicts the now-gone Cheonggye elevated road. Other works by him provide us with vivid landscapes of the inner city where primary-colored signboards are densely clustered, and vehicles and crowds mingle with each other.
Hong Soon-tae's photo exhibition, "Cheonggyecheon" will be on display until October 20 at the Atget Hall of the Kim Young Seob Photo Gallery, Gwanhun-dong, Jongno-gu, Seoul. Hong's photos documented Cheonggyecheon as a place which was inhabited by lower-income people for about 10 years from the early 1960's when the stream started to be covered with concrete to the time when the elevated road was completed. The focus of his works is not the beautiful scenery around the stream, but the truthfulness of the lives of filthy and poor people lived there. Through those photos, you can meet students who try to cross a wood bridge being battered by cold winter winds, children who enjoy swimming naked in the summer, and people who had to leave Cheonggyecheon with their belongings after they were forced to relocate.
For more information, contact 02-733-6331.
Mun-Myung Huh angelhuh@donga.com