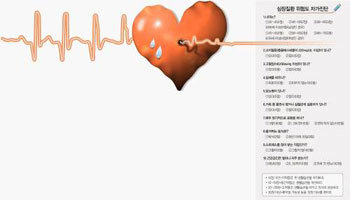 Bubjang Monk, the Executive Director of Administration of the Jogye Order of Korean Buddhism, suddenly passed away one week after receiving cardiac surgery. Healthy people also suddenly die while exercising due to heart attacks. Concerns about the heart are increasing.
If cholesterol builds up in the heart's arteries, the arteries become constricted as the flow of blood is not smooth. Unable to receive sufficient oxygen and nutrients, the heart muscles will eventually decay and cause spasms. This is known as myocardial infarction, more commonly known as a heart attack. Angina pectoris, or heart stricture, where the blood vessels are being clogged, is the stage before myocardial infarction.
The most common foreboding symptoms of cardiac diseases are chest pains. The chest hurts like it is being ripped, and the pain spreads to the neck, sides, and left arm. In case of heart stricture, the pain will usually disappear within five minutes, but in case of myocardial infarction the pain will prolong over 30 minutes. In such cases, the patient should be immediately sent to the hospital. Nevertheless, prevention is much more important than the cure. October 3 is World Heart Protection Day. Lets find ways to strengthen our hearts.
Annual Check Ups are Necessary for Potential Patients—
The World Heart Federation conducted a survey on 2,672 doctors in 27 countries, including Korea, to find out the greatest danger factor to cardiac disease. About 60 percent of the doctors pointed to abdominal obesity as the greatest enemy of the heart. People with abdominal obesity are all potential cardiac patients.
The federation suggested paying more attention to the size of the waist. If one's waist size is over 35 inches for men, and 31 for women, they belong in the high-risk group. However, only 20 percent of average people measure their waists on a regular basis. In case of Korea, that ratio plunged to a mere three percent.
Officer workers are more susceptible to cardiac diseases. It is easy to think "what burden goes to my heart since I work sitting in front of a desk?" But that is not actually true. Due to the long hours at the desk it is very likely to develop abdominal obesity, and the stress involved in the work is also a minus factor.
Besides this, high blood pressure, hyperlipidemia, diabetes and other chronic adult diseases, as well as smoking, make one a potential patient. Such people should have electrocardiograms or echocardiography annually in addition to exercise tests.
Exercise Reduces Cardiac Diseases by 25 to 30 Percent—
With fall approaching, the number of people exercising has jumped. Persistent exercise reduces the chances of developing cardiac diseases by 25 to 30 percent. That is because it uses cholesterol stuck to blood vessels as energy sources. Nevertheless, sudden and excessive exercising is a different story. If one has a heart attack, it might lead to sudden death.
There are annually about one or two sudden deaths caused by heart attacks in every 1,000 people. Men are four times more susceptible than women.
Death caused by excessive exercising is the same as heart attacks suffered when waking up in the morning. Stress hormones increase and with the sympathetic nerves agitating, the blood vessels become constricted.
Then, blood platelets become more coagulated and blood clots are caused. The cholesterol chunks swell up and block the vein.
Therefore, before excessive exercise, one should check their body condition.
First check if there is chronic pain in the knee or back. Second, check if you are breathless, even if you move a little. Third, check if you have chest pains, and fourth, check if you cannot deal with the exercise. If you answered 'yes' to one of the questions, then it is better not to exercise. In addition, if you have foreboding symptoms, you should stop and immediately go to the hospital.
Sang-Hoon Kim corekim@donga.com