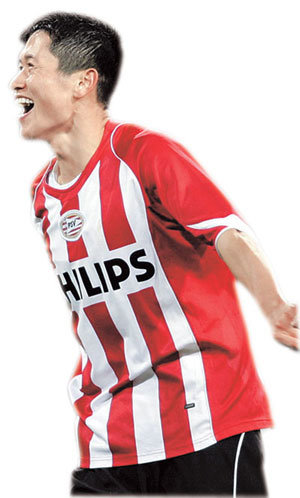 Lee Young-pyo (28) has the nickname "chorongi," because of his sweet appearance. On August 27, following Park Ji-sung (24, Manchester United), Lee became the second Korean Premier Leaguer after being transferred to Tottenham Hotspur in the English Premier League from PSV Eindhoven in Netherlands.
Lee's agent said that Lee signed with Tottenham Hotspur for a three million euro transfer fee (approximately 3.8 billion won), a four-year contract, and around the fifth highest annual salary on the team, though specific terms of it were not made public. Considering an annual salary of $5 million (five billion won) paid to a top-class player in the league, Lee's annual payment is presumed to stand between $2 million to $3 million (two billion to three billion won). Park Ji-sung's annual salary is known to be three million euro (3.8 billion won).
What Kind of a Team is Tottenham Hotspur?-
Tottenham, Lee's new team, is a prestigious club in Premier League with a tradition of 123 years since its foundation in 1882. Though Tottenham has only won two Premier League Championships (1951, 1961), it has won the FA Cup eight times. In addition, it won the Cup Winner's Cup (1963), the UEFA Cup (1972, 1984), and the 2005 Peace Cup Korea held in Korea, last month.
England's super star Paul Gascoigne and Germany's soccer hero Jurgen Klinsmann played for Tottenham, and currently, Ireland's star Robbie Keane is playing on the team.
What Is Lee's Position?-
Lee is expected to play left-side wing back as he did on the Korean national soccer team and PSV Eindhoven. Tottenham is using all its resources in order to stabilize its midfield and defense line by bringing in Edgar Davids before signing with Lee. Lee's transfer to Tottenham is also part of Tottenham's efforts to stabilize its defense. Lee will have to compete against Swede Erik Edman for a regular spot on the left side.
Soccer, Me and God-
Born in Hong-Cheon, Gangwon Province, Lee started playing soccer in Anyang Elementary School. Lee always played striker during his school days at Anyang Middle School and Anyang Technical High School. Lee won scoring championships in various kinds of competitions during his middle school years. However, after entering Konkuk University (KU), Lee shifted his position to defense. Equipped with abilities to score as a striker, to dribble, good physical strength, and sincerity, Lee had his heyday in the 2002 World Cup.
Lee runs the 100 meters in 11 seconds and is particularly good at feinting, and his power comes from his deep faith. Lee is such a devoted Christian that he evangelizes not only his national soccer teammates, including Park Ji-sung, but also reporters. Lee's sincere religious faith is deeply placed in the heart of his success of becoming a Premier Leaguer.
Jong-Koo Yang yjongk@donga.com