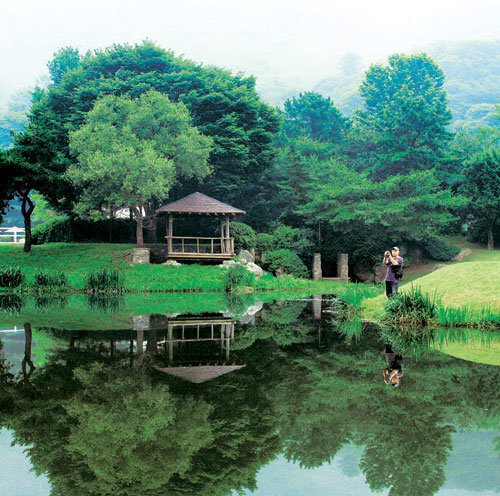 The path in the field where Won Bin and Kim Tae-hee quarreled over whether to eat Chinese noodles or spaghetti (LG Cyon ad, Sindu-ri in Taean-gun, Chungnam Province), the night view of fireworks over the sky of a beach (Posco ad, Bukbu beach in Pohang city Gyeongbuk Province), the grey plain where actor Cho In-seong stood with gloomy eyes (Fuji Finepix ad, Osom airfield in Hwaseong city Gyeonggi Province), and the path through Jupiter trees where Han Seok-gyu took a walk thinking how to console his wife who lost a relative (Kyobo Life Insurance ad, entrance of Boseoksa Geumsan-gun Chungnam Province).
There is a question that pops up in our mind while we are watching TV advertisements dozens of times a day: How did the advertisement people find such great places?
Those who search for places for movies, dramas, and advertisements are called location managers. The mission for location managers, who know many great and beautiful places, is to find a real place that their scenarios or story boards are expressing. Location managers should be equipped with extensive knowledge of places.
Locations of TV dramas and movies such as Seobjicoji of Jeju (the location of the TV drama "All-in") and Nami Island (the location of the TV drama "Winter Sonata") quickly become famous attractions while the location of TV advertisements often remain unknown to many people. Since they appear in the advertisement for a short time, it seems that it would be easier to find locations for advertisements than dramas. However, this is not true. While dramas and movies allow the location manger relatively long "hunting time," many advertisements require them to find the site just in a day.
Lee Seong-beom, a 44 year old advertisement location manager, was requested to find a clean area with corn fields, a bridge, and mountains for a Kellogg's ad. He finally found the right place near Jeongseon of Gangwon Province after driving across the country for over 5,000km for six days without any guidance. He said that he had been to Dong River, which is located near Jeongseon, more than 20 times. He is a master of national highways.
Great locations are not always in remote areas. The advertisement for Saengsaeng Potato Chips which features actress Kim Ah-joong was shot in Ilsan Lake park, the ad for Maxim coffee mix (featuring Ahn Seong-gi, Kim Jeong-eun, and Park Hae-il) was shot in a garden of the Seoul Hyatt Hotel, the "taxi episode" of KT&G (featuring Cho Seung-woo) was shot in front of a shopping mall in Paju City of Gyeonggi Province, and the Bacchus advertisement featuring Lim Soo-jung and Choi Min-sik was shot in front of a café called "Slow Walk" in Sinsa-dong, Seoul and at Yonsei University, respectively.
Location manager Kim Tae-young (34) said, "For natural scenery with mountains and rivers, we shoot in Jeongseon or Taebaek. Scenes with traditional houses are shot in Gyeongsangnam-do (Andong), and 90 percent of modern spaces are shot in Cheongdam-dong in Seoul."
Kim Shin-ho (32) stated, "There are many fields and old temples in Jeollanam-do, and the most beautiful beaches are in Taean."
People say to them, "You get to travel all time, you have a really good job." But in reality, they all say that they know many places but have not been able to enjoy them. If they visit the seaside, they are busy taking pictures and conjuring up ideas. They do not have time to frolick in the water. In other words, they are surrounded by fun and glamour, yet they cannot make use of it.
Location managers recently made it on the list of promising professions. However, until one is experienced, the pay is low and the work irregular. There is no official education institute, so to learn the trade, they must work in related industries and apprentice under an experienced location manager. They must enjoy traveling, have knowledge of photography, and have negotiation skills to deal with any unexpected happenings.
The popular Cass beer commercial in which the main character sticks his resume on the window of a high-rise building to apply for a job, was difficult to shoot due to objections from building owners. The KTF commercial where Kim Min-joon helps kindergarteners cross the street was shot at a crosswalk in front of the Dong-A Ilbo newspaper building. They had to block a two-lane road and pedestrians were very upset. It is up to the location managers to deal with these problems.
Ji-Young Chae yourcat@donga.com