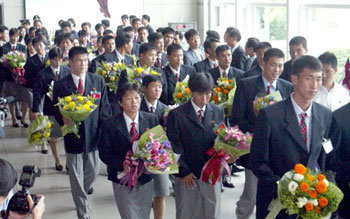 They may have felt awkward about visiting South Korea for the first time in 15 years.
North Korean national football team players wore short hair and were neatly dressed in black jackets and grey pants. The players got out of the arrival area of the Incheon International Airport and they looked stiff. They never responded to tenacious demands by reporters to make comments on their feelings. They posed for cameramen for a while and left.
The North Korean men's and women's teams that will participate in the 2005 East Asian Football Federation matches arrived in Seoul on Tuesday. The North Korean national football team led by their leader, Lee Kyung Il, departed at 10:00 a.m. from Pyongyang and arrived at Incheon International Airport at 11:08 a.m. on a direct flight of Korea Air (JS615) via the West Sea.
North Korea dispatched its Olympic national team to the 2002 Busan Asian Games and its college team to the 2003 Daegu Universidad in the past. It is the first time in 15 years since the North and South Unification Football match in 1990 that the North Korean adult men's football national team has come to South Korea.
A total of 67 delegates, including North Korea's players and representatives of the North Korean Football Association, received welcoming flowers from Lee Hwoi-taek, Lee Kap-jin, vice presidents of Korea Football Association, and Noh Heung-sup, the general secretary.
During a brief welcoming ceremony, reporters asked Lee, the leader, about his feelings about visiting Seoul for the first time in a long time, but he said, "Thank you" in response and left for the Mayfield Hotel near the Kimpo Airport.
Lee Han Jae (Hiroshima), who belongs to J League of Japan departed from Japan in the morning and joined the national team in Incheon Airport, but An Young Hak (Nagoya) was excluded from the list of national team players due to an injury.
Unlike other players, Lee Han Jae stood out with a casual white shirt and gray pants, and crest-like hairstyle resembling that of David Beckham.
The North Korean national team started its first training session, which was not open to the public, in the afternoon at the Seoul World Cup auxiliary stadium.
Representatives, including Cho Chung-yun, vice president, and Kim Dong-dae, deputy general secretary of the Korea Football Association, left for North Korea overland in the morning and held a preliminary working-level meeting of the "North-South Korean unification football association" scheduled for August 14 with officials of the North Korea Football Association in Gaeseong.
Jong-Koo Yang yjongk@donga.com