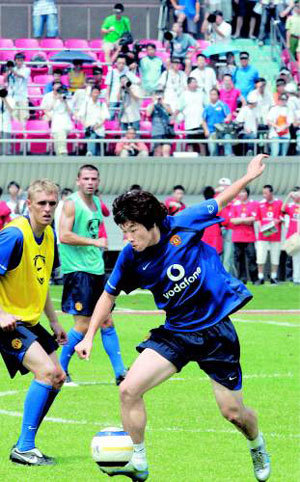 "Park Ji-sung will appear as a starter in the game on July 26 so that he can be ready for the UEFA Champions League which will begin soon," said Alex Ferguson, the head coach of Manchester United, in response to a question from a Korean reporter at a press conference held at the Kerry Center Hotel in Beijing a day before the match against Beijing Hyundai.
In response to a question from a Chinese reporter whether the main purpose of the club`s Asian Tour 2005 is to raise money, and whether he will continue the event-driven match using 11 players per half, the coach answered, "Since the UEFA Champions League is at hand, the game will be played by the first team."
In the afternoon team practice session at Gungrun Stadium in Beijing, the coach clearly displayed his will. Despite a sweltering heat with temperatures reaching 37 degrees Celsius, players had to finish a 90-minute intensive drill, 30 minutes more than initially scheduled. In the practice game between club players, Park teamed up with Ruud van Nistelrooy, Ryan Giggs, and Wayne Rooney to play against starting defenders Gary Neville and Mikael Silvestre.
The highlight of the game was a duel between Dong Fangzhou and Park in a corner. Local fans chanted for Dong, shouting, "Go through, go through!" in Chinese. The Chinese player, however, was unable to go though Park`s defense and lost control of the ball.
Around 500 club fans invited through a lottery by sponsoring companies were allowed to watch the game. Illegal tickets were sold for 100 Yuan (about 13,000 won) each, targeting soccer fans desperate to watch the game. China`s Public Safety Office placed about 1,000 police officers around the field and armed police escorted the team bus.
Van Nistelrooy, in an interview with Dong-A Ilbo at the sports center on the second floor of the hotel in the evening of July 24, said that Park is very good player and that it is fun to play with him.
Park said that the matches in China and Japan are very good chance for him to adapt himself to his new team. He added that he will try his best to become a better player.
The match between Manchester United and Beijing Hyundai will be held on July 26 at 8:30 p.m. Korean Time, and will be broadcast live on SBS Sports Channel.
Jae-Yun Jung jaeyuna@donga.com