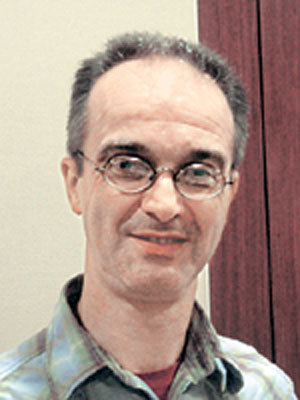 "The vocal technique in the Baroque era was one that drew out the pure notes in a human voice. It's a lot more natural than the vocals of the Romanticism period, which focused on resonating a large theater."
German Baroque tenor Gerd Türk (50, picture) came to Seoul on July 12 for an invitation to the 20th anniversary of the "Baroque and Contemporary Music Recital" (President Kim Mi-sun, a professor at Dong-Ah Broadcasting College). As a professor at the philharmonic institution Schola Cantorum Basiliensis in Basel, Switzerland, Türk acted as main tenor for Bach's ecclesiastical music conducted by Jordi Savall and Masaaki Suzuki, and the operas of Monteverdi.
He held a seminar at the Concert Hall at Seoul National University on July 13 with the theme of Baroque vocal music and will open a master's class until July 15 at the same location, following up with appearances in concerts titled "Church Music of Bach" and "Baroque Secular Vocal Music" at 7:30 p.m. on July 17 and 18, respectively, at the Kumho Art Hall. Assuming the role of music director at the concert, Türk sketched out the repertoire and will sing songs like Erlebach's "Lamento."
"At the seminar on July 13, I lectured on the 'Definition of Baroque Vocalizing in Speech.' Unlike the Romanticism era, the Baroque composers concentrated on recreating the situation in the lyrics rather than evolving a beautiful melody. When expressing "heaven," the pitch would climb."
To a question on the vibrato (tremble) being faint in the Baroque period, Türk explained, "It is not necessarily about excluding vibrato, it is just that its use is limited to express the fluctuation of emotion."
Yoon-Jong Yoo gustav@donga.com