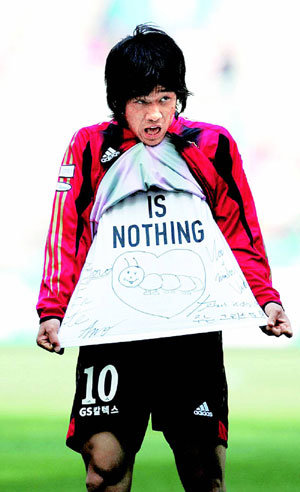 Park Joo-young is a 20-year-old soccer genius. In his mini homepage in Cyworld (cyworld.nate.com/cyp10), he expressed his love for his girlfriend, "I have a pretty 'slow girl'. She is my first love and will be my last. I love and care for her so much."
His girlfriend "slow girl" is Jeong (21) who is a student at Korea University. Jeong responded to Park that Joo-young is "my cute little boy."
Recently, thousands and sometimes more than 10,000 netizens began rushing to Jeong's mini homepage. Jeong's mini homepage soon became filled with messages and replies written by many netizens she has never met. Most of the visitors left encouraging messages such as "Grow a beautiful love with Joo-young" and "I envy you". But some left comments that could be tough for Jeong to take, such as "Are you really a girlfriend of Joo-young?" and "Joo-young is mine."
Jeong's homepage is a private space where she, like any other university student, talks about her story and uploads photos of her family and friends. Finally, Jeong limited access to her mini homepage to her Ilchons, or first-degree friends, thinking that "It is too burdensome to me" and ended up shutting it down recently.
Excessive public interest felt stressful to Jeong. She said, "Please strongly support Joo-young, but take me out of your attention."
Park, too, limited access to most contents including photos recently, saying, "It is too difficult to manage my homepage these days. I will be back after taking some rest," although he did not forget to say on his homepage, "Thanks to you, I will be able to get along well with my 'slow girl.'"
In fact, there have been many cases in which excessive pubic attention have weighed heavily on star players' girlfriends or families. Last year, "table tennis genius" Ryu Seung-min expressed his thanks to his girlfriend Kim after having won a gold medal in the Olympic Games in Athens. Soon after that, Kim became a "star" among netizens against her wish, and the two eventually broke up.
Won-Hong Lee jaeyuna@donga.com