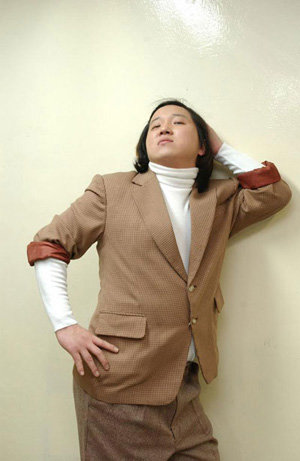 Jung Hyung-don (27): certain heaviness can be felt from his name already. Entering his name on an Internet search engine, five of his TV programs appear on the screen—"Wild Challenge," a section in the show "Saturday (MBC)," "Imagination Crusade" from "Sunday Night Special (MBC)," youth sitcom "Nonstop Five (MBC)," "Happiness Corp. (MBC)," and "Mission: Dad's Challenge (SBS)." On the side, his name appears in the "Daily Top 10 Comedians" list.
We met him for an interview on the afternoon of June 22 at the SBS lobby.
Tired but Happy -
"People usually lose weight when they are busy, but strangely, I'm still the same. But one thing's for sure, I don't feel tired. Should I say fatigued but happy?"
Jung Hyung-don says he hasn't lost weight, but he is just being modest. His drooping shoulders, tired eyes, and crumbly skin make him look rather emaciated.
"Actually, it is sort of unusual for a comedian to host a variety show or appear in a sitcom. But I am still young. I think it is okay to experience a lot and find my way later on. However 'Imagination Crusade' from MBC's 'Sunday Night Special' was an exception. I went to Las Vegas without any knowledge of what was going to happen, and then I was asked to ride a roller coaster that was on the top floor of a 110-story tower."
Though They Opposed at First –
While working at a large company after graduating from high school, Jung Hyung-don was pushed by a fellow worker to become a comedian.
"In 2000, a fellow worker asked me to apply for the comedian audition with him because he was embarrassed to do so by himself. It seemed like a good deal. So in 2001, I boldly left my job without my parents knowing and concentrated on the comedian audition."
After leaving the company, he went to "Baeccopperia," a theatrical company run by a senior comedian, Park Jun-hyung. However, Park Jun-hyung and other comedians, such as Lim Hyuk-pil, tried to persuade him to go back to work.
"My mother went to the hospital one day and found out that she was not eligible for the medical insurance that was in the name of my former workplace. She called me and cried for a long time. But once I made it into KBS as a comedian in 2002 and became as famous as 'Gallery Jung,' she began to boast of her son all over the neighborhood."
For There are Fans who Love Him -
A reason for Jung Hyung-don's recent explosive popularity among netizens is the circulation of two photos. One is a picture that a netizen captured from a scene in "Imagination Crusade" where Jung was trembling in fear in a rollercoaster, and one is a picture where his hairdo is compared with that of actress Shim Eun-ha. However Jung is indifferent toward the term "popularity."
"I have never considered myself a 'popular entertainer.' All I want is the long, steady support of my fans."
When asked, "What do you want to do in the future?" at the end of the interview, he gave an unexpected answer.
"Let's meet again in 10 years. Even I am curious about what I would be doing and what dreams I would have accomplished by then. Promise, June 23, 2015." (laugh)
bsism@donga.com