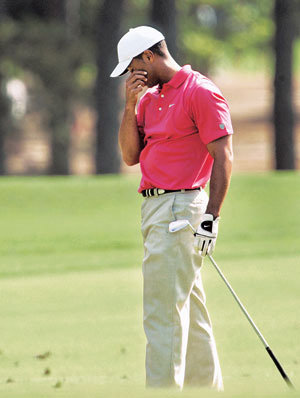 Having the most challenging course among international golf competitions: this is the U.S. Golf Association (USGA)'s "U.S. Open philosophy." It does not matter if the winner is over par. Actually, in last year's fourth round at Shinnecock Hills Golf Club, when the green dried up due to the hot and dry weather, the USGA refused to spray water on the green, and because of this, not one player played under par and 28 players hit over 80, turning into "weekend golfers."
Therefore, every golfer who enters the U.S. Open, even though he may be a top-ranking player, is bound to give a sigh at every hole.
The 2005 U.S. Open Championship (total prize money $6.25 million), this season's second major championship, which started on June 17 at Pinehurst No. 2 course in North Carolina, was not an exception.
Among the 156 participating players, only nine ended the first round under par.
Olin Browne and Rocco Mediate (U.S.) are the unexpected leaders (3-under par), and "Tank" Choi Kyung-ju made a fresh start and stands in sixth place (1-under par). Yang Yong-eun (Kasco), who passed the local preliminary contest to play in the majors for the first time in his career, is tied for 54th (4-over par).
Tiger Woods (U.S.) and Vijay Singh (Fiji), strong rivals for the world number-one ranking, are tied for 10th (even par).
Pinehurst, which is so challenging that in 1999, Payne Stewart (who died five months after the win in a plane crash) took the champion cup with 1-under par, has been set to be more difficult than it has been six years ago, so the main interest lies in whether there will be an "over-par champion."
The course has been extended 92 yards, and since the tough Bermuda grass rough is more than 12 cm, a regular "on-green" shot will be difficult once the ball falls inside. Moreover, the infamous "pan cover" green threw out almost all on-green shots.
The most difficult hole in the first round, No.16 (par 4, 492 yards, average strokes 4.6) is expected to be the critical hole throughout the game. There have been only four birdies on this hole. There have been 69 bogies and 13 scores over-bogey. No.16 is where regular weekend golfers play for par 5, and the average stroke number six years ago was 4.54. On this hole, leader Browne and Mediate recorded birdies, Choi Kyung-ju saved par and Woods took a bogey.
Young-Sik Ahn ysahn@donga.com