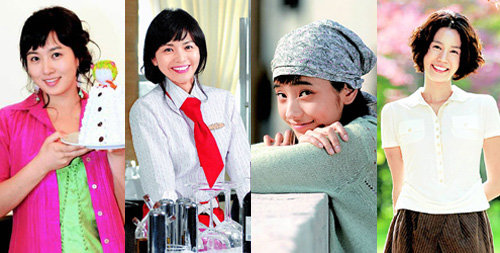 The MBC dramas "My Name is Kim Sam-soon" with protagonist Kim Sam-soon (played by Kim Sun-ah), "Love Hymn" with heroine Oh Soon-jin (Jang Seo-hee), the SBS dramas "Only You" with main character Cha Eun-jae (Han Che-young) and "Returned Single" with Chung Keum-joo (Kim Ji-ho) are all recent dramas that have spinsters, singles mothers, and divorced women living confident and progressive lives.
However, underneath, they will all ultimately end up marrying a prince charming. Culture critic Kim Hun-sik pointed out, "The dramas will probably conclude with the banal ending of the female protagonist meeting a rich heir or high society man and fall in love. That will be Hotel Group president's son Hyun Jin-heon (Hyun Bin, "My Name is Kim Sam-soon"), Han Yi-jun (Cho Hyun-jae, "Only You"), an heir to a large conglomerate with over 30 subsidiaries, or Kang Sae-han (Chun Gwang-ryul, "Love Hymn"), the heir to a fortune.
Only the actresses are different, and the shows are an extended reproduction of last year's hit Cinderella dramas such as SBS' "Lovers of Paris" and KBS' "Full House."
The reason why such easy-to-bore Cinderella dramas are regularly produced is simple. "Only You" viewer Lee Soh-young (33, female) said, "Although while watching the drama I think it does not make sense, I fantasize that such a thing might actually happen to me in real life."
Reality of Marriages Where Scores are Given According to Social and Economic Status—
Inha University Economics Professor Kim Jin-bang who studied the marriages of CEOs of over 50 companies, including conglomerates such as Samsung, LG and Hyundai, said, "After the 1980s the owner families of corporations usually married with other such families. There is virtually no case where owners married with an average mid-class person."
In order to find out the competitiveness of female protagonists of Cinderella shows, in general terms, we asked marriage information company Sunoo to grade the "spouse score profile" of Sam-soon, Eun-jae, Keum-joo, and Soon-jin. A spouse grade is a patented program that scores the competitiveness of members that ask for an arranged meeting with a prospective spouse. It grades job, education, and social and economic status as well as looks, height, body figure, home environment, adding up to a total of 100 points, with higher scores meaning a more competent spouse.
According to this grading system, the average score of the female protagonists of "Only You", "My Name is Kim Sam-soon", "Returned Single", and "Love Hymn" is 70. The average scores of their single male counterparts are over 90. A marriage information company worker explained that in order to be evaluated as a distinguished member, "One needs to have assets over five billion won, a professional job, parents working as high government officials, be educated in prestigious universities or studied abroad, and have outstanding looks (in the case of women, this part is higher)."
Couple managers all said, "High class members want to meet with people in the same class, so in experience, the chances of an average woman meeting a rich prince charming like the one in a drama are one in 10, and the chances to marry him are one in a 100."
Does The Dream to Go Through the Needle's Eye Continue?—
Of course there are exceptions. In particular, women might score lower than men in their family's assets and other socio-economic statuses, but a unique unforeseen character, confidence, active self-improvement, not gorgeous, but refined and pretty looks, and consideration for others, are traits that allow for couples from different classes to match up.
Couple Manager Chun Sun-ae said, "There are cases where high-class men were drawn to average but attractive women rather than lofty and gorgeous women from the same class. Kim Sam-soon's unforeseen character, Oh Soon-jin's cute looks, and Cha Eun-jae's rashness might in fact appeal to a potential prince charming."
The Cinderella-like protagonists of current dramas all have active characters, but are also new generation self-supporting professionals, such as chefs, ones that have studied abroad, and a marketing-professional waitress, which is a reflection of social values that emphasize active self-improvement and experiences abroad. It is questionable, however, whether they will be shown sweating, boiling spaghetti noodles or baking cakes, even after they marry prince charming.
Yoon-Jong Yoo zozo@donga.com