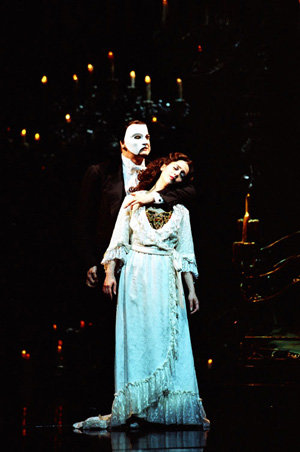 "The greatest show on Earth."
The musical "Phantom of the Opera," launched on June 10 in Korea at the Opera Theater of the Seoul Arts Center, is a stage that bears witness to its loving audience of 100 million over the period of nearly 20 years.
The genius Phantom, who lives hidden in the grottoes with a disfigured masked face, Christine, rising from an obscure chorus girl to become the prima donna under his guidance, and Christine's fiancée Raoul. The audience immersed themselves into this love story, taken from the scenes of a 19th century Opera House in Paris.
Hundreds of fantastic costumes, a massive one-ton chandelier vertically suspended over the seats, special effects that weaves a boat between candles as if gliding, and a spectacular masked ball….
There is not a moment to spare in the 130 minutes of action. One thing that lacked, however, was the distance and speed in the anticipated "chandelier drop" scene from the first act, due to the structure of the stage.
The gem of this musical is its songs. The first piece, which is also Christine's solo, "Think of Me," and the theme song "The Phantom of the Opera," as well as "Music of the Night," "All I Ask of You," and "Point of No Return," amongst others, must be sung with special care by the cast, as they could determine the success of the musical.
Marni Raab, who plays Christine, was noted for her innocent beauty, but came a tad unfamiliar to the audience due to her trembling opera technique compared to the "original Christine" Sarah Brightman's liquid and pure melodies.
The peak of the concert was the ensemble in act 2 scene 9 between Christine and Raoul (Jarrod Carland), and the Phantom. The standing ovation and five encores, however, were directed, no doubt, at Brad Little as the Phantom. With a history playing the Phantom over 1,800 times at Broadway, he is the bona fide Phantom. Standing at a towering 190 centimeters, his rich melody, baritone, and tenor ranging freely from low to high-pitched tones awed the audience.
Listening to pieces like "Music of the Night," his acting shines through the mask, and feels as if his poignant expressions are actually visible. The final kiss between the Phantom and Christine transfixed the audience, as the slight trembling of the Phantom's fingers was enough to express the pain of love. The difference between the Korean cast of the "Phantom of the Opera" in 2001, and its fault, lay in its lack of this sort of delicate acting.
Although the other actors lose the spotlight in the shadow of the captivating Phantom, the Phantom alone is reason enough to recommend this performance.
The musical runs until September 1. 02-580-1300
Sue-Jean Kang sjkang@donga.com