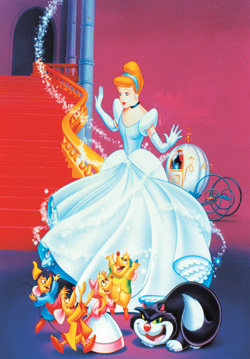 Could it have been because they were the heroines who captured the hearts of the princes of all time with their beauty and courage? Though they differed in the colors of their hair and eyes, they were all amazingly beautiful and wise. Meet the main characters of "Cinderella-type legends" that have spread throughout Eurasia for ages with amazingly similar stories. We met these characters, who are introduced in the new publication, "Traveling a Millennium into the Story of Cinderella," in an imaginary space.
Different looks; Same Feats-
- We are happy to meet you who have captivated children throughout time. We heard that you have all lived amazingly similar lives though you each belong in different periods and countries.
Cendrillon (France) – We lost our mothers when we were young, and suffered under stepmothers and stepsisters (laughs).
Kongji – Not only that, most of us are alike in that we were able to perform difficult chores given by our mean stepmothers with the help of animals, especially cows, and also in that we met wonderful men by losing our shoes at a party.
- That is how you are alike. Then, who among you is the oldest?
Yeh Shen – It's me. I first appeared in an essay book during the Tang Dynasty around AD 860, so that makes me way older than a thousand years old. I lost a gold shoe at a party. What happens before and after that, it's all the same.
From Ancient Religion to "Family Romance" -
- Vietnam, Armenia, the Philippines... how is it that similar stories originate from such different regions?
Huu Ngoc (Vietnam) - I believe it's because our stories are based on the primitive religious practices that were common in the old world during the Stone Age. Like Yeh Shen and myself, most of us gain mystical powers by burying the bones of dead animals and pouring water over them. It's a practice done by wizards before civilization. We also lose our shoes at a party, and it's interesting to note that ghosts around the world that act as mediums between gods and humans all have difficulty walking properly.
Aschenputtel (Germany) - In my opinion, our stories have spread around the world because they play an important role in child development. Borrowing from Freud's theory, a woman's first lover is her father. In most stories, the stepmother and sisters are portrayed as evil, but it might be because to the untrained eye of a child, all the females in the family are potential competitors. It is only with the arrival of the prince that this problem is resolved.
- You all seem to possess both inner and outer beauty. You forgave your sisters.
Huu Ngoc - Not me. I killed my sister and marinated her. You might be surprised, but (formerly) Korea's Patji was also marinated. As time progressed, the stories fit the moral standards of the society, thus the more violent parts were omitted, but we used to be tough and vicious.
Reaching Beyond Western Theory -
- You've had the rare chance to convene at a Korean writer's collection. How do you feel about this, Kongji?
Kongji - I feel that this honor is all due to the meticulous research of a Western historian that we have been able to convene in my home country. Due to M R Cox's research in the late 19th century, 345 Cinderellas around the world first convened, and we were called upon by academics henceforth from time to time. I was particularly insulted by the Austrian academic Bethelheim. He kept trying to analyze us through a sexual perspective (laughs).
Aschenputtel - This book contains fourteen Cinderella stories from the East and West, and is filled with examples and analyses that are easy to understand. I believe that those who want to know more about us may also refer to Nakazawa Shinichi's "Myth, Humanity's Greatest Philosophy". (East Asia Books, 2003)
- Thank you. You may return to your princes and live happily ever after. Good luck.
Yoon-JongYoo gustav@donga.com