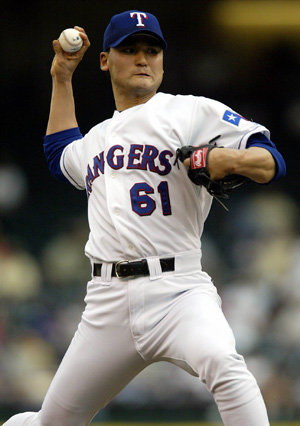 It has finally been decided when and against whom "Korean Express" Park Chan-ho (32, Texas Rangers, photo) will pitch for his 100th victory.
The Texas Rangers announced it would put Pedro Astacio, their fifth starter, on the mound for their June 4 game, when Park had been expected to take part, giving Park five days of full rest until June 5 when he would be going up the mound. The June 5 match will start at 3:10 a.m. and he will pitch against Jose Lima (33), the 12-year veteran player of the Kansas City Royals.
The Kansas City Royals are the weakest team in Major League Baseball with the lowest winning percentage of .288 and a record of 15 wins and 37 losses as of June 2. Lima, as a starter, has no wins and four losses in 11 matches in this season with an earned run average (ERA) of 8.13. In this vein, Park Chan-ho has a good chance to achieve his 100th win in this game.
It does not mean, however, that the Rangers can take it easy. The Kansas City Royals are on an upswing, winning two straight over the New York Yankees, and Lima once recorded an ERA of 3.58 with 21 wins and 10 losses in 1999 when he was playing for the Houston Astros. Lima successfully came back again last year with 13 wins and five losses, and this year, he was named the Royals' opening day starter.
For Park, the June 5 game will also be a return match. Back in 1999, when he was in the Los Angeles Dodgers, Park was defeated by Lima in the last game of the season against Houston. In that match, he pitched quite well into the seventh inning, giving up four hits and one run, but ended up only helping Lima eventually win his 21st victory with no runs and two outs into the eighth inning.
Will Park be able to catch "three rabbits" at once: achieving his long-awaited 100th win, winning his sixth victory in this season, and avenging his previous defeat to Lima? We will have the answer on the morning of June 5.
Sung-KyuKim kimsk@donga.com