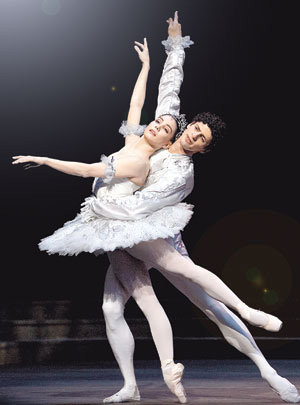 Britain's Royal Ballet, the world's premier ballet company, will tour Korea for the first time in 10 years. The upcoming performance, which will be held in the Main Hall of the Sejong Center for the Performing Arts from June 29 to July 3, commemorates the 85th anniversary of Dong-A Ilbo.
The Royal Ballet numbers among the three finest ballet troupes in the world, alongside Russia's Bolshoi Ballet and France's Paris Opera Ballet. The Royal Ballet's upcoming visit will be its third Korean tour after 1978 ("Swan Lake") and 1995 ("Giselle"). This latest performance will feature two favorites from its repertoire: "Cinderella" and "Manon."
Festival of Top-Star Ballerinas-
The Royal Ballet's Korean tour will include some of the world's most famous dancers. The most noteworthy is prima ballerina Darcey Bussell, who has commanded principal roles in "Swan Lake," "Giselle," "Sleeping Beauty," and many others. She will play the lead in both "Cinderella" and "Manon" in the upcoming performance. Alina Cojocaru and Tamara Rojo will play alternate leads for "Cinderella" and "Manon," respectively.
Bussell, Cojocaru, and Rojo are all world-famous ballerinas who have been guest performers for the World Ballet Festival, a gala concert featuring the dancing world's crème de la crème.
Frederick Ashton, who choreographed "Cinderella," and Kenneth MacMillan, who choreographed "Manon," are both hailed as having "created new styles of ballet" through their works. It is no exaggeration to say that the Royal Ballet's main repertoire was born at the fingertips of these two choreographers.
A Humorous and Cheerful "Cinderella"-
The Royal Ballet's "Cinderella" puts a comical spin on the familiar fairy tale. Because it is easy and cheerful enough for anyone to enjoy, it is one of the Royal Ballet's most popular pieces. One of its chief distinctions is that the wicked stepmother and stepsisters are played by ballerinos (male dancers) rather than ballerinas. Watching ballerinos in drag provides an added source of hilarity.
"Manon": An Unforgettable Pas de Deux-
"Manon" is a tragic love story based on the eponymous opera by Jules Massenet. The highlight of this piece is the pas de deux by Manon and her lover Des Grieux. This pas de deux is a fixture in the repertoire for all gala ballet concerts.
Professor Jang Seon-hee of the Sejong University Dance Department explained, "Unlike the restrained movements seen in classic pas de deux, the ballerina in 'Manon' totters precariously and provocatively unravels her body," adding, "It's a must-see for all ballet aficionados."
"Cinderella": June 29, 30 and July 1 at 7:30 p.m.
"Manon": July 2 at 7:30 p.m. and July 3 at 3:00 p.m.
Tickets run from 40,000 won to 200,000 won. A 20 percent discount applies when purchasing tickets for both shows. 02-399-1114∼7
Sue-JeanKang sjkang@donga.com