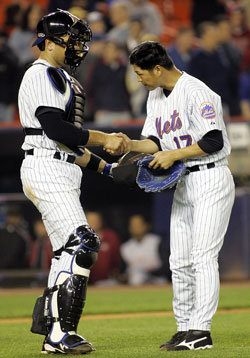 "A pitcher's job is to throw well. It would be the cherry on top of the cake if he has a good bat as well, but…"
During the New York Mets' home game against the Cincinnati Reds on May 17, Mets pitcher Koo Dae-sung (36), who threw well for one and one-third innings and recorded three strikeouts, garnered attention for his peculiar batting stance.
The Mets were leading 9-2 in the top of the eighth, with the Reds in a two-out and a runner on first situation, when Koo took over the mound from starter Kris Benson. He ended the inning with a strikeout, then came up to bat in the bottom of the inning with one out.
Because there is no designated hitter in the National League, the pitcher has to bat.
But Koo, who was facing his first pitcher in the regular season of the Major League, stood far away from the plate as if he didn't mean to swing at all.
At the home fans' amused reactions, Fox sportscaster Ted Robinson explained Asia's designated hitter system and noted, "It must be his first time at bat since he was eight years old."
Meanwhile, ESPN also aired this scene during its news segment, with an arrow marking the distance between Koo and home plate. The anchor even joked, "He seems to be 20 feet (approx. 6m) away from the plate."
After boasting perfect pitching for two consecutive days and cutting down his ERA from 5.00 to 3.97, Koo struck out on four pitches himself. For those fans who remember Park Chan-ho's home run during his days with the L.A. Dodgers, it was something of a disappointment.
Park (33, Texas Rangers), who made another attempt at his fourth win of the season that same day against the Chicago White Sox, was crushed by a grand slam, and crushed again when the bullpen botched his potential win.
Park gave up five runs over six innings, including a home run by A.J. Pierzynski in the first inning, but could have earned a win thanks to the six runs scored by the Texas lineup.
However, the Rangers' third pitcher Nick Regilio allowed a solo home run in the eighth to tie up the score. Frustratingly for Park, Texas rallied into a 7-6 win with a home run in the ninth.
Choi Hee-seop (26, L.A. Dodgers) started against Florida in the number two spot playing first base. He went 1-for-3, with a .313 batting average.
Sung-Kyu Kim kimsk@donga.com