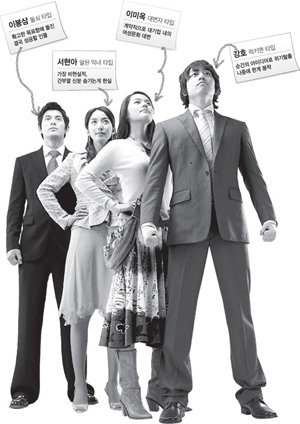 Kang Ho (Eric), a graduate of a provincial university; Lee Mi-ok (Han Ga-in), a female contract worker; Lee Bong-sam (Oh Ji-ho), the stereotypical elite professional; and Seo Hyeon-a (Lee So-yeon), the privileged child from an impressive family background. These are the four "rookie" employees of the fictional LK group whose struggles for survival are the subject of MBC's hit show "Super Rookie." The drama, which has recently recorded ratings in the 20% range, is a brisk, lighthearted satire on corporate culture and unemployment among the younger generation. It is eliciting varying responses from professionals in their 20s and 30s, sometimes offering catharsis through identification ("That's exactly what I went through!") and at others receiving criticism for unreality ("There's no way that sort of thing could happen!"). So how do real "rookies" in large corporations view the show? Three new employees from Samsung, LG, and SK engaged in a free discussion on the MBC drama.
Lucky Kang Ho Can Be Annoying-
Cho Dae-gon: Every time I watch "Super Rookie," I feel like it's my own story. Even my boss asks, "Did you see yesterday's episode?" and says half-jokingly, "Although you don't have Kang Ho's looks, you should at least try to take after his spirit and ambition!"
Lee Eun-ho: But sometimes Kang Ho seems to lack an intellectual side or even basic etiquette. Sleeping until 10:00 a.m. in the conference room, or impulsive actions like putting makeup on his own face at his desk in order to research the product—that sort of thing is unrealistic.
Kim Hyeon-jin: On the show, Kang Ho always emphasizes the fact that he graduated from a provincial university. But in real companies, not all graduates from universities outside of Seoul act like Kang and broadcast their academic background. On the contrary, most of them quietly go about their work.
Mi-ok Lacks Professionalism-
Lee: Kang Ho once joined Mi-ok, who is a contract employee, in a rally to "abolish discrimination against contract workers" at the front entrance to the company building. I was really impressed by that. In fact, I wish Mi-ok could be portrayed not simply as a contract worker, but a professional career woman who is an equal to the regular employees.
Kim: Maybe it's because I'm a woman, but I view the character of Lee Mi-ok as representing female culture within large corporations. She didn't draw much attention when she was in a uniform hidden behind horn-rimmed glasses, but when she appeared in regular clothes with makeup on, a lot of men began drooling over her. And after that, she's been regarded not as a contract employee, but an ordinary woman who occupies one end of a romantic triangle.
Hyeon-a Needs to Be More Ruthless-
Cho: I think Seo Hyeon-a, the show's villainess, is the least realistic character of all. Who nowadays brags about being an executive's daughter in a professional environment? It's more likely that such a person would try to hide that fact as much as possible. If an executive's daughter were to receive special treatment, the organization would be in shambles. In this age of cutthroat corporate competition, a company that engages in such behavior would fall behind.
Kim: If Hyeon-a concealed her family background and became more ruthless, she would be quite an arresting female character. As she is, Hyeon-a is rather lukewarm. And Lee Bong-sam isn't a 100 percent villain either. He experiences his own tears and frustrations, and we see a lot of his human side.
Lee: On the show, Director Song criticizes Bong-sam by saying, "The problem with kids like you is your textbook way of thinking. You always come up with the same answers." Lee Bong-sam is portrayed as the victim of Korea's standardized education. The amazing thing is that he always feels jealous of Kang Ho, who's from a provincial university.
Wishing Bong-sam Would Be Rewarded for His Efforts-
Kim: I guess that's more apparent because Kang Ho and Bong-sam are on the same team. I have a colleague at work who began the same year as I did, and I feel a sense of competition as well. My desire to do better fuels that feeling. But I don't think that's necessarily a bad thing. Rather, I'm annoyed from time to time to see Kang Ho have all the good luck. Bong-sam's unfaltering pursuit of his goal appeals to me more.
Lee: I believe that Bong-sam has a higher chance of surviving at his company. Kang Ho has a lot of lightning-flash ideas that seem attractive for the moment. But someone like that tends to show his limits the higher he climbs up the corporate ladder. I feel like Bong-sam, who is consistent in his efforts, will come out on top in the end.
Cho: It would be great if "Super Rookie" ended with the message that a person who works steadily toward his or her goal, rather than someone who has good luck or gets chance opportunities, will eventually succeed. Because that's the hope of all of us real "rookies."
bsism@donga.com