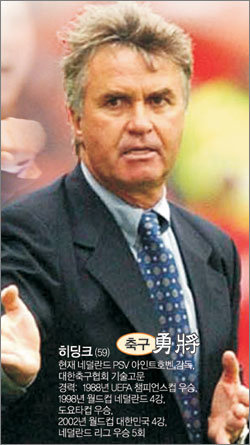 Manager Kim Ho-cheol (50), put Hyundai Capital, a chronic runner-up, on top of the pro-volleyball league in the first year of the existence of the league by beating Samsung Fire Insurance, which had eight straight titles in the semipro volleyball league. Coach Guus Hiddink (59) won the Dutch soccer league and reached the semi-finals of the UEFA CUP and Champions league with PSV Eindhoven, a team composed of second-class players. Manager Kim In-sik (58) took charge of the perennial losers Hanwha and turned them into a contender, starting the season with a five-game winning streak. What are the strong points of the three leaders that allowed them to achieve such great results?
When manager Kim Ho-cheol took the wheel of Hyundai Capital in November of 2003, he assigned a mission to a technique analyst and fitness manager from Italy. He made the manager compile a database with the individual strengths and weaknesses of the players, as well as the success and failure rate of attacks and blocks against its nemesis, Samsung Fire Insurance.
Based on the data, manager Kim found out that the Achilles heel of his players was weak stamina. He immediately ordered "personally-arranged weight training" that he experienced in Italy for his players. Players began four-week training courses to strengthen stamina, such as Hoo In-jeong, who had a knee injury and began working out to start strengthening his lower body.
As a result, Hyundai stopped hearing that it lagged behind Samsung in stamina. This is the key factor that allowed perennial runner-up Hyundai to hold onto the title of the 2005 KT&G Pro-Volleyball League--ten years after it won the semi-pro super volleyball league in 1995.
The volleyball world calls Kim a "crafty leader." Some are even sarcastic and call him the "master of cheap tricks." In other words, he's witty enough to survive in a war and has a great ability to respond adequately to different situations.
This is one anecdote that happened during the 2003~2004 league. Kim made the players jump into a lake after they came back to their quarters at Yong-in, Gyeonggi from a poorly played game. It was in the middle of winter and the weather was just literally freezing. Ten months afterwards, after Hyundai lost to Samsung in the Korea Volleyball Best League, he summoned his players into the gym. The players, having experienced the "lake incident," were already shivering.
However, the words that came out of Kim were unexpected. He told them, "Good work, take three days off." The players returned three days later with determination and their hair cut short.
He said, "There is a reason that I raise my voice and take exaggerated gestures when we play against Samsung." The reason is to give confidence to players who are always shrinking against Samsung. When having dinner with players, he will instill fighting spirit to players by saying, "Hey, when I was playing, I played better than Shin Chi-yong (Samsung's manager), so don't worry."
Maybe his actions were right. Now the players get more pumped up than Kim when they play against Samsung. Now, isn't that really crafty?
The Korea National Soccer Team's coach Guus Hiddink, who was preparing for World Cup 2002, did not select the "eternal libero," Hong Myung-bo, to play for the national team after June, 2001 Continental Cup was over. Hong did not join the team for about nine months until March 2002. At the time, Hong was the most senior player, one of the most charismatic players, and the idol of the team's younger players. Yet, Hiddink did not pick him intentionally. He prompted the competitive spirit out of Hong and other older players by making them compete with younger players. Such tactics became the groundwork for Korea to reach the semi-finals.
Hiddink also displayed charisma by leading PSV Eindhoven into the top of the 2004~2005 Dutch soccer league, and the semi-finals of both the UEFA Cup and Champions League.
Eindhoven is not a powerhouse on the European soccer map. Most of its starting players, such as "Taeguk Fighters" Park Ji-sung and Lee Young-pyo, Hesselink, Jefferson Farfán, and Demarcus Beasley, are just prospects to be sold in the future.
At one time, team captain Van Bommel and some players ignored Park and Lee. However, Hiddink gave Park and Lee endless confidence, and taught the other players how to embrace others, such as by learning the language of other players, and united the team into a singular unit.
Hiddink emphasized harmony, saying, "It is beautiful to combine players from different cultures into one team." The secret to Eindhoven's success, achieved without any famous players, is due to their strong bonding.
There were also hard times for Hiddink. When he was heading the Dutch National Team in Euro 96, hosted by England, he sent Edgar Davids back home for protesting against him, by saying, "The coach only recruits poor players. Is he stupid or what?" Afterwards, the strong contending Dutch team was shaken and it did not advance past the quarterfinals. Furthermore, the team was struck hard again when Hiddink's dispute with Surinamese players, or the "Carvill group," became public.
Nevertheless, Hiddink embraced the "Carvill group" who got him into trouble, and by building a team around them, he advanced the Dutch team into the semi-finals at the 1998 France World Cup.
PSV Eindhoven will play its first-leg game of the European Champion's League semi-finals against AC Milan in the early hours of April 27. AC Milan is a powerhouse with spectacular players. We are curious what tactics will Hiddink use to beat a better-playing AC Milan.
A talking manner that is just like actor Joo Hyun, a Seoulite who uses a thicker Jeolla-do (Honam) dialect than a native Honam person, and is easy-going like your next-door neighbor or older brother. He's unlike a manager. Usually he looks so indifferent, but he is a meticulous teacher that moves his players by taking care of their fortunes and misfortunes. Players call him "dad."
That is the Hanhwa Eagles' manager Kim In-sik. When he came back from a one-year rest and took command of Hanhwa, people were more worried. Hanhwa was less visible thanks to Lotte, which was a last place team for the past four years, but Hanhwa was also continuously placing in the bottom of the rankings.
It was an exact re-run of the times when he was the skipper of the first-year team Ssangbangwool in the early 1990s, and Doosan, where he worked for nine years and won two titles but lost one or two star players to other teams.
He had to create something out of nothing. Kim had to play to role of "recycling factory manager" once again, collecting abandoned players.
In the process, 15-year veteran Kim In-cheol who was expelled from Kia, ethnic Korean resident in Japan Koh Ji-haeng who failed to re-contract with Samsung, and free-agent Oh Bong-ok who had no where else to go, all wore Hanhwa uniforms.
He also did not forget to bestow devotion to starting pitchers Jeong Min-cheol and Moon Dong-hwan, stuck in long slumps, closer Ji Yeon-gyu, and senior players Jang Jong-hoon and Lee Do-hyung.
Jeong Min-cheol was moved, saying, "He guaranteed me a starting spot every single time since training camp, even though I did not win a single game last year." Last weekend, at a home game in Chungju, also the hometown of Lee Do-hyung's wife, Lee asked Kim if he could start in the game. Kim let him start in the game regardless of the outcome of the game.
The outcome was more than satisfactory. Lee, who lately changed from pitching to batting, leads the league in homeruns with six, and hit a game winning homerun with his mother-in-law watching. As for the pitching staff, which had more losses than wins, it now has a strong starting rotation. Chung is already the joint leader in wins with three wins already. As for 36-year-old veteran Ji Yeon-gyu, who had to re-sign as a trainee, he has five saves and is becoming a staunch closer for Hanhwa in the late innings.
Baseball analysts all say, "If Kim did not have to fight off a stroke for a month last winter, Hanhwa would be doing much better."
Jong-Koo Yang Hwan Soo Zang yjongk@donga.com zangpabo@donga.com