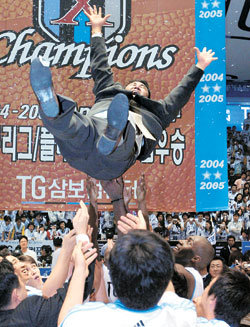 It is time that the "new" attached to his "head coach" job title can be removed.
Winning two championships and one semifinal in the last three years, he now deserves to be included in the list of great head coaches, but he attributed the team`s exceptional records to the TG players.
Jeon Chang-jin, a 42-year-old head coach of TG Sambo Xers, sang the song "Golmoggil," meaning "backstreet" in Korean, at the party celebrating the championship.
As the title of the song might imply, his basketball life has been far from easy. After graduating from Korea University, he worked as a team supervisor and a front office employee, handling the team management issues, and he realized during that time that the two rules of survival in basketball are to have strong basketball skills or have a good relationship with the skillful.
He was quick in adapting himself to pursuing a coaching career. His primary rule of coaching was not to be intimated from asking questions about things he did not know. He sought advice from everyone, and also focused on forging strong teamwork by frequently meeting with players and discussing various team strategies. "Jeon`s leadership comes from letting players open their own eyes rather than following him blindfolded," said Kim Joo-seong, the playoff MVP.
But he occasionally was intimidated by other coaches who have had brilliant basketball careers. Jeon shed tears while exchanging a hug with Jay Humphries, an assistant coach of TG Sambo. "I doubt other coaches would simply regard me as a head coach. But Jay was different and I appreciate him so much for that."
Weighing over 100kg, Jeon`s careful character is in contrast to his physical appearance. He does not sleep well because he thinks about the games too excessively. The only time he manages to have a deep 1-2 hours of sleep is when he is on the team bus after winning the away games. He is careful enough to take care of all the meals of his players.
Jeon is now on the front line on the scouting list of head coaches. But he said, "I will continue with the TG Xers since the team gave me chance to become what I am now. I would like to add better foreign players and re-sign Shin Ki-seong, who is going to be free agent this summer, so that I can win the championship again with this team."
Jeon calls himself "the fortunate coach," surrounded by talented players. But integrating them into a good team requires talent, and that`s why Jeon`s success as a head coach is highly regarded.
Jong-Seok Kim kjs0123@donga.com