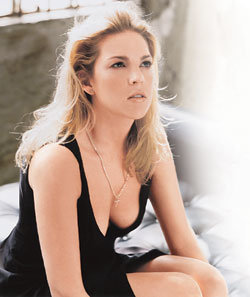 Canadian jazz singer Diana Krall (41, photo) will perform before a Korean audience on March 31. The tour begins on March 17 in Malaysia then stops in Japan and Hong Kong before arriving in Seoul. This will be her third Korean tour, following 1999 and 2002. Tickets for the event, held on March 31 at 8:00 p.m. in the first-floor Convention Center of the Millennium Seoul Hilton Hotel (Jung-gu, Seoul), cost between 50,000 and 150,000 won. 02-541-6234
Diana Krall, along with Laura Fygi and Norah Jones, gained popularity by introducing jazz music styled on pop. She began learning the piano at four years of age, and was sufficiently versed in jazz by age 15 to play at a local restaurant.
In 1994, she met her current producer Tony LiPuma and released her debut album "Only Trust Your Heart." Her third album "Love Scenes," released in 1997, set an astonishing record by remaining at no. 1 on the Billboard jazz album chart for 66 straight weeks, and in 1999, her fourth album "When I Look in Your Eyes" won the Grammy for album of the year. She wed Elvis Costello, who sang the popular theme song "She" for the film "Notting Hill," in 2003 and her sixth album, which came out the following year, was a joint production with her husband.
Diana Krall is also famed for her looks. She is called "the Sharon Stone of the jazz world" because of her remarkable beauty, but hardcore jazz fans sometimes write her off for being a blond bombshell singing "pop jazz." Nonetheless, her skill with the piano, honed over 35 years and more, and her distinctive husky voice have turned her into one of the most well-known jazz musicians in the world.
Dong-A was able to hold an exclusive phone interview with Diana Krall while she was resting in Singapore in preparation for her Japan show.
Dong-A: It's your third visit to Korea. What are your feelings this time around? Any memories of the 1999 and 2002 tours?
Krall: I have high hopes for the Korean tour. Personally, my previous visits to Korea have given me many good memories. The 2002 show was especially memorable because of the passionate response of the fans.
Dong-A: There are a large number of fans in Korea who love your music. What do you think is the reason for such popularity?
Krall: I think it's because Korean fans take my music as it is and feel the same things that I do. What I hope from my fans is for them to empathize with the improvisational elements of jazz that infuse my music, despite our language difference.
Dong-A: Your music is widely known as pop jazz. What are your thoughts on the popularization of jazz, what we might even call the "pop-ization" of jazz?
Krall: I was lucky to be able to have my music reach such a wide audience. I think that the popularization of jazz is itself a fortuitous thing.
Dong-A: One of your nicknames is "the Sharon Stone of jazz." Have you ever benefited from your looks in your music career?
Krall: (Laughing) I think it's the ultimate praise to be compared to Sharon Stone. But I think of myself as Elvis Presley. I'm that laid-back. In fact, I prefer to wear jeans rather than sexy outfits on stage.
Dong-A: Have there been any changes to your music since you got married?
Krall: My husband stimulates me musically and creates an atmosphere in which I can concentrate on writing. The best thing is that we can sympathize with each other musically.
Dong-A: What is "jazz" to you?
Krall: Jazz is freedom. At its center is improvisation. Showing what I am capable of without restraint, that's jazz.
bsism@donga.com