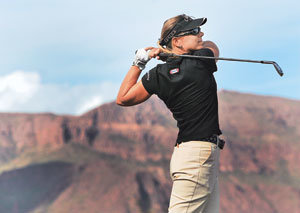 LPGA Tour players compete successfully as long as "the Empress of Golf" Annika Sorenstam does not participate. But, once she appears in the competition, other players seem to shy away. Even if a player has a major lead at the tournament from the first day, once Sorenstam appears on the upper side of the rank in the final round, other players' chances begin to collapse. This Sorenstam effect is set to continue this year.
In the final round of Safeway International, held in Superstition Mountain GC (Par 72), Arizona, Sorenstam accomplished another comeback victory, defeating Lorena Ochoa in the decisive playoff. She has won each tournament she participated in this year, with all the victories being comebacks from unfavorable starts. She appeared in games twice this year, and her career win was extended to 58. She made four comeback victories out of eight total wins last year.
Ochoa, who had a four strokes lead over Sorenstam before entering the 16th hole, committed several errors in a row, finishing with double-bogey at 16th hole, bogey at 17th. This allowed Sorenstam to make birdie at the 18th to go to the playoff. Ochoa missed the driver tee shot to the lake, allowing Sorenstam to grab the second win of the season.
Kang Soo-yeon (Samsung Electronics), who competed Ochoa in the "Champion`s group", could not make the first LPGA championship win. Sorenstam`s career playoff record improved to 14-5.
Sorenstam, who achieved six wins out of last eight championships, claims that her key strength comes from her ability to concentrate on goals. As she notes in a recent interview, "I set a goal upon entering every hole. If the course is a tricky one, I usually focus on finishing the hole by par, but if I see a chance, I do not hesitate to give a shot. Upon entering the 18th hole, I knew that Ochoa made double-bogey at the 16th. I thought I had a chance to win, and I gave it a shot to get birdie."
Grace Park, who won all four games that she took a lead off the start of the final round until 2003, failed to extend her record at the Samsung World Championship in 2004, when she was defeated by Sorenstam and finished 2nd. Grace Park, who blew out three stroke lead and gave Sorenstam another comeback win by three stroke, admitted the existence of the "Sorenstam factor", saying, "How do you feel if such a No.1 player like Sorenstam is chasing you right behind you?"
Young-Sik Ahn ysahn@donga.com