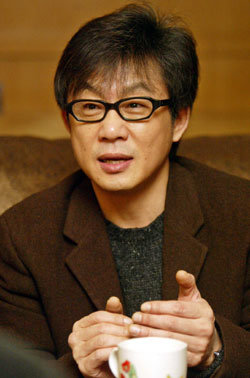 Singer Jeon Young-rok (50) is back after a 13-year interval.
Jeon will be the first performer at the Korean Pop Top 10 Concert series to be held at the Mesa Popcorn Hall in Namdaemoon, Seoul, on his birthday on March 26. His new album is due next month.
The Korean Pop Top 10 Concert is a relay performance by singers that placed first in the KBS billboard chart program "Korean Pop Top 10" during the 1980's. Choi Sung-soo and Kim Beom-ryong, among others, will be performing in it until December.
Jeon Young-rok recorded a total of 10 songs that received the Golden Cup for ranking first for five consecutive weeks on "Korean Pop Top 10," including "Love"; "Jong-ee-hak (origami)"; "My Crybaby Love" and "Sunset." In 1992, Jeon retired after releasing his 20th album. In the era of Seotaeji and Boys' rap-dance style hit songs like "I Know It," Jeon had already become a has-been.
"I'm happy just to have one fan in my concert. I don't need guests or special events. I want to sing as many songs as possible."
Though it has been quite some time since he last met his fans, Jeon is amazingly calm. He is not worried whether or not the concert will be a success or what events he should prepare for his fans. Jeon is glad in just meeting his fans on the stage.
While taking a break from his singing career, he contemplated on music.
"The rhythm-and-blues and soul music performed by the contemporary singers merely seem to be imitations. Instead of integrating the substance, they're more interested in form. Like Korean hip-hop music, which starts with sticking those classic inverted fingers downward. While taking a break I studied music and tried to find a niche for myself in the Korean music industry."
His niche is "folk trot." Next month, Jeon will release six to seven folk trot songs with an acoustic guitar background on his new album, to be released after a 13-year hiatus.
"The songs I sang during the 1980's lack emotion. I only pretended to sing well. The sad songs should have been sung with the emotions I felt when my parents passed away... Now I think I can put my emotions into it a little."
When his father (the actor Hwang Hae) passed away on February 9, Jeon Young-rok said that the loss of his father brought about this change.
"I was never lauded once by my father. His best praise for me was on my 20th debut concert, when he said 'At last my Young-rok can sing a little.' But after my father passed away, I keep regretting that I haven't done more for my father."
Jeon Young Rook released a total of 38 albums in 33 years, including 20 regular albums. As a composer, he also wrote hit songs such as Lee Ji-youn's "Stop Oh Wind" and Yang Soo-kyung's "Love is like the Rain Outside My Window." On his 20th and 30th debut anniversary, his juniors even released a "Jeon Young-rok Dedication Album."
Three decades have passed since his initial debut, but Jeon still wears gawky glasses and jeans. He concluded the interview with musing,
"People say that Yong-pil is first and I'm always second. But I like being second, because there's always room for improvement. That's what induced me to keep on going and work on my songs."
bsism@donga.com