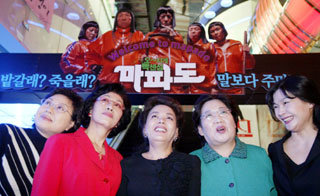 "Mapado," or "The Island Named Mapa," slated for release on March 11, is quite a challenging film: the main characters in this movie, which purportedly targets an audience in their twenties, are middle-aged with nothing particular to enhance their appeal. They are Yeo Un-kye (aged 64), Kim Eul-dong (59), Kim Soo-mi (53), Kim Hyung-ja (54), and the stage actress Gil Hae-yeon (40). Acting as "bizarre" elderly residents of a remote island called Mapado, the five women "play on" two male strangers: a gangster named Jae-chul (Lee Jung-jin) and an absurd detective named Chung-soo (Lee Moon-shik). I met the five actresses for an interview on February 28. They kept saying to me, "Relax. Relax. Feel at home with us. We are not like pretty young actresses. Our director was at his ease with us too." I felt as if I was left alone on Mapado.
The fact that such experienced actresses came together for the interview was joyful and overwhelming at the same time. Unlike in the movie, where they sport tanned skin, all of them had unbelievably fair skin with sharp make-up, as well as glamorous accessories. The eldest of them said first, "I have never appeared so bizarre before. I am worried because the scene on the poster is not actually in the movie." She seemed to be anxious about the movie poster, in which the five old ladies brandish scythes wearing rustic orange waterproof suits. She was true to her onscreen role of tough, scolding "Mrs. Chairman."
Kim Eul-dong, who played the role of "Mrs. Yuo-su," a charismatic supervisor, looked even more worried. "I even saw a photo of the movie on the wrapping paper of chewing gums I bought at a gas station. I knew I was ugly, but...," she remarked with a laugh and went on to say, "Yes. I am the daughter of the famous gangster, Kim Doo-hwan, but still it's too much." As if she was reminded of her actor son (cast in the drama series, "Hae-shin"), she added, holding up her fist in the air, "Who would want to be my daughter-in-law when I am this horrific?" Meanwhile, Kim Soo-mi, who played the role of a cursing "Mrs. Jin-an," tried to break the ice. "We won't be this bizarre any more."
The characters of these "unusual" grannies are exaggerated reproductions of the experienced actress's familiar TV personae: Yeo Un-kye is tough, but does everything precisely; Kim Eul-dong is wild, but emotional; Kim Soo-mi, famous for playing "Il-yong's mom" in an all-time-favorite drama series, seems about to bark to her fictional son in her typical accent, "You! Brat!"; Kim Hyung-ja, whose double eyelids look impressing, is noisy, funny, and narcissistic.
Yeo Un-kye commented on each, comparing them with their ordinary images. "Kim Hyung-ja used to be the sexy queen. She was beauty itself to all. That's why she plays such a role in the movie." She added, "Mrs. Fat (Kim Eul-dong) does look heavy, so she plays the role of a violent granny." She continued, "Don't I look intelligent? I must look like somebody who knows very much about literature," explaining why she plays the role of an intellectual." On this note, Kim Eul-dong complained, "In fact I am the fragile one at heart. I play this role just because I look big."
When asked whether it was any easier to work with young actors like Lee Jung-jin and Lee Moon-shik, they seemed to say, "What does that matter?" Yeo Un-kye laughingly noted, "They are the ones who are supposed to harmonize with us. They were just overwhelmed before us elder girls." In particular, as Lee Jung-jin began his military service that day, Kim Soo-mi joked, "He must have gone to the army soon because we played on him too much." She whispered, "In fact, we treated him too well."
As they started to talk over "young actors," they went on and on. "The movie would have been funnier if one of us had sexually attacked them. We just forced them to work on the farm in the movie," Kim Soo-mi said. Laughing out loud, Kim Hyung-ja chimed in, "I should have played that 'attacking' role." Here, Yeo Un-kye quipped regretfully, "I should have shown human desire that goes beyond age in a more obvious way. I should have been more helpless, and noisy."
In fact, their best weapon, they believe, is not their bizarre characters but their "teamwork." Kim Eul-dong said, "Young actors and actresses have trouble coordinating their schedules with others, but we don't have that kind of problem. That's all because we have motherly love and warm hearts." Without their agents' help, they said they fixed their schedule themselves by talking on the phone. They seemed tired, but finished the interview in a happy mood. At the end, they did not neglect to remind me to vividly report their story either in the social affairs or the politics section.
For ages 15 and over.
zozo@donga.com