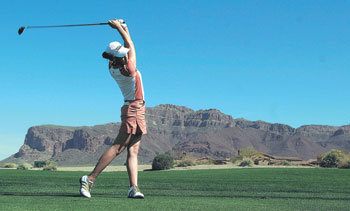 "Despite home field advantage, the short course is not that favorable a condition for me. But I really want to win the champion's trophy for my fans who have supported me."
As always, Michelle Wie's father, Wie Byeong-wook (professor at University of Hawaii), and her mother Seo Hyeon-gyeong accompanied her in the day's practice round. Her father wrote down the exact distances, even using binoculars designed to measure distance, while her mother made rounds of 18 holes with Michelle, carrying a backpack stuffed with snacks and invigorating food.
The golf-related industry, not to mention her fans, is most interested in when Michelle Wie will become a professional.
"Someday I will debut as a professional. But I really want to go to college. My dream is to compete in a Masters tournament, and an amateur player has a greater chance to participate in it."
Only those who are within the top 40 on the list of the U.S. PGA tour prize and the top 50 in the world ranking at the same time can participate in a Masters tournament, which has strict qualifications. If she becomes a professional, giving up attending college, it will be harder for her to realize the dream. On the other hand, amateurs can be invited to the competition if he or she is the winner in the U.S. Amateur Public Links, or the runner-up in the U.S. Amateur Championship.
"I want to do something that no one ever thought of. I want to change the people's thinking (that a woman cannot participate in a Masters tournament)."
Michelle Wie considers the "Emperor of Golf" Tiger Woods as her hero. She says that she learned golf with an interlocking grip (grip of the club by having the little finger of the right hand and the index finger of the left hand intertwined), just like Tiger Woods, and that she wants to attend Stanford University which Woods attended.
Her father also expresses a negative opinion on an early start of her professional career. "As Michelle wants to go to college, there is no plan for becoming a professional for the time being. If she wins in a regular LPGA competition, she will secure a seed. But that's what we will decide later."
Tiger Woods once said, "It is more important for Michelle to accumulate victory experiences in competition with her peers," commenting on her participations in adult competitions such as the one between sexes (the U.S. PGA Tour). However, Michelle has a different idea. She stoutly says, "Isn't it more valuable to win a big competition than to win 10 small competitions?"
She is now 185cm in stature, growing two cm from last year. "Since I'm tall, I can see the movement of a ball that drops on to the elevated green before others. But that's all. I don't want to grow anymore. I have pants that have become too short for me, and the ticketing staff gives me an adult ticket in the movie theaters."
Michelle is more fluent in Korean now than she was two years ago when she attended the Nine Bridge Classic held in Jeju. She said, "Dad, this hole is for a 3-wood. I don't need to grab a driver," when dropping her driver tee shot at the 16th hole (four pars, 398 yards) into a pond at the 300-yard mark.
Her mother brings out black goat juice from her backpack, after finishing the 13th hole. It is the same black goat juice that Michelle drinks two packs a day since she was 12 years old.
"Michelle avoided it at first, saying it was disgusting, but now she just endures and drinks it. Perhaps she keenly realized that stamina does matter in a golf tournament in which she should play for four or five days, including the practice round."
It is possible to watch Korean TV programs on a cable channel for 12 hours a day in Hawaii. Michelle's favorite program is "I'm Sorry, I Love You," a drama which recently ended in Korea. She said that she even borrowed video tapes of the drama and watched them twice.
Her face which looked like a child's becomes mature when talking about golf. "My fans in Korea, I will not disappoint you, by playing greatly. You can expect a victory this time."
Young-Sik Ahn ysahn@donga.com