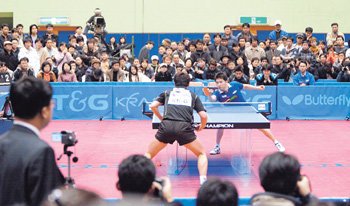 Ryu Seung-min, ranked fifth in the world, lost to Wang Hao of China (ranked third) at KT&G World Top`s Table Tennis Festival held in Bucheon, Gyeoggi Province.
In the first rematch of the 2004 Athens Olympics finalists, Wang defeated Ryu, 3-1 (15-13, 5-11, 11-2, 12-10).
In the game held in Bucheon, Gyeonggi Province, the place where Ryu spent his elementary and middle school years, sellout crowds of more than 2,000 watched the duel of Korean and Chinese table tennis superstars.
In the decisive first set, Ryu had an initial lead of 8-3, taking advantage of Wang`s repeated serve receiver mistakes. But Ryu`s powerful drive started to wane, and the score tied up at 9-9. Wang earned a win for the set, 15-13, after Ryu`s receiver went off the table. Ryu won the second set by 11-5, but committed consecutive errors in the third set and lost that set, 2-11, and at 10-10 deuce in the fourth set, Ryu's two decisive drivers went out as he lost 10-12, finishing the match at 1-3.
Wang humbled himself in an interview afterwards, saying, "Ryu and I both are good players. I think I happened to be just physically better fit today." Ryu said, "I had an opportunity to win, but I did not seize it. Still, I am proud of beating him in the Olympics."
In another big match, 19th ranked Joo Se-hyuk defeated No. 10 Kalinikos Kreanga of Greece by 3-2. Joo was applauded by the crowds for his state-of-the-art defensive skills and strong drive attacks, which brought him a sensational win yesterday over the champion of the 2003 World Table Tennis Competition, Werner Schlager of Austria.
In other matches, Oh Sang-eun (No. 1 in Korean table tennis professional rankings), lost to Schlager by a score of 0-3 and Choi Hyun-jin was defeated by Timo Boll of Germany, 2-3.
Sung-Kyu Kim kimsk@donga.com