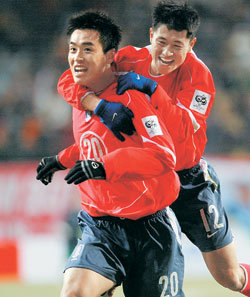 The "Lion King," Lee Dong-gook's (26, Gwangju) sensational shooting stunned his spectators.
The 2006 Germany World Cup Asia Regional Preliminary Finals between Korea and Kuwait, held on February 9 at Seoul World Cup Stadium was the first match in Group A. Lee Dong-gook scored the first goal 23 minutes into the game with an incredible left-foot turning volley shot, causing a sensation within the crowd. Park Hang-suh, his former coach with the Pohang team, stated, "I can only say that it was an extraordinary goal."
In a match against Germany held on December 19 last year, Lee Dong-gook displayed his 120-degree right-foot turning shoot, nicknamed the "torpedo shoot," against goalie Oliver Kahn. The right-foot turning shot displayed on February 9 hit the inside of Kuwait's left goalpost, spinning into the goal net and leaving the Kuwaiti goalkeeper aghast. Lee Dong-gook's sensational shot is judged to have derived from his experience in the German Bundesliga four years ago. Lee Dong-gook was a leased player for six months at the prestigious German soccer club Bremen in 2001. The experience taught Lee shooting techniques used in Germany. As in the saying: "German soccer starts out with shooting practice, while Brazil starts out with dribbling practice," the shooting technique in Germany is known to be one of the world's best.
Lee Dong-gook scored a total of nine goals under coach Johannes Bonfrere, placing himself as the main goal maker of the team. Due to injuries, he could not make it to the national team in time to display his shooting skills at the 2002 Korea-Japan World Cup. Lee Dong-gook stated after the day's game: "I have both the skills and the confidence to score a goal in any given situation."
Meanwhile, speedster Lee Young-pyo (28) and "Mickey Mouse," Park Ji-sung's (24, Eindhoven) "total soccer strategy" was assessed to have been the driving force in the victory against Kuwait. Training under coach Gus Hiddink, the players excelled in both offense and defense, trekking the ground without being bound to their respective positions. Lee Young-pyo received Park Ji-sung's pass 35 minutes into the second half of the game and scored, sealing the victory by a score of 2-0.
Soon-Il Kwon stt77@donga.com