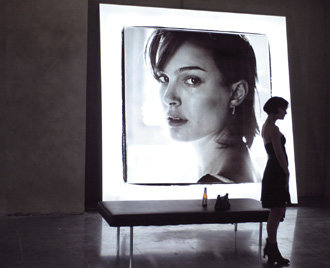 A person comes into one's life out of nowhere one day as a stranger caught accidentally by camera. The stronger the impression, the stronger is one's faith in "fate." Getting caught up in a fated encounter all the while being in love with another: can such a double-sided truth exist?
"Closer," which opens in theatres on February 3, brings into question the "legend" called love with brutally fine delicacy through short and lucid lines.
"Hello, Stranger?"-
American tourist Alice (Natalie Portman), an ex-stripper, greets an obituary writer of a London daily paper, Dan (Jude Law). On a city street, bustling with people on their way to work, Alice lets her eyes wander, gets hit by a car, and snuggles into Dan`s arms. The two move in together.
Now, Dan is about to publish a fiction book based on Alice`s experience, and at the photo shoot for the cover of his new book, he falls instantly in love with Anna (Julia Roberts), the photographer. "Come closer. You`re beautiful," he says. Anna ponders after their kiss, "Don`t you feel bad for her?" Dan answers, "She`s so lovely, I cannot leave her...I have to see you."
Destiny and Revenge-
Anna marries Larry (Clive Owen), a dermatologist, who she met partly because of Dan`s playful chatter. However, one night when Larry returns home from his first business trip after the wedding, Anna calls for a break-up. "I love Dan." Larry asks, "Is he better than me?"
Alice cries and curses Dan when he reveals that he has fallen in love (with Anna). "Fate, you say? Love is a choice of the moment. You could have denied it." Dan answers, "I`m egotistic. I want to be happier."
Larry and Anna sit down to take care of the divorce papers. After pleading her to return, Larry offers an ultimatum for his signature on the papers. "Make love to me, just once." Dan, who finds out about this "deal" between Anna and Larry, loses reasoning in his state of anger. "It`s over between us. We have lost the pureness."
Larry sneers at Dan, who whimpers in his pursuit to regain Anna (who has returned to Larry). "You know nothing about love. You don`t know how to give-and-take."
The Truth-
Dan goes to look for Alice at a strip club with a help of his rival, Larry. Alice is excited about getting back together with Dan, but Dan is only interested in whether she slept with Dan. "I want the truth." The truth he finds out only after Alice leaves him for good is that even the name Alice was not the real name of the woman he lived with for four years.
We must realize that Director Mike Nichols (73), who won an Oscar with the movie, "The Graduate," is a former Broadway actor. The four stars of the movie approach the lurid end of love through short and rhythmical exchanges and close-up shots of their expressions, commonly seen on theatre stages, without a single sex scene.
The title "Closer" is a paradox. None of the lovers get any closer to each other than a kiss. They just "talk" often about making love. The movie is packed with concise expressions of emotions, rendering itself a great studying material film for English. The movie is rated as being appropriate for those 19 years and above.
Eun-Ryung Chong ryung@donga.com