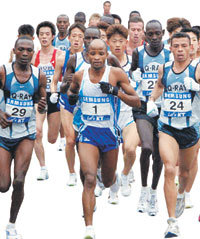 Gurt Thys, Joshua Chelanga, William Kipsang, Ji Young-jun…-
The world's foremost runners will race in the heart of Seoul at the 2005 Seoul International Marathon and the 76th Donga Marathon, to be held on March 13.
Gurt Tyes of South Africa, who recorded a time of 2:07:06 last year, possesses the best record in Korean competitions. Kenya's William Kipsang placed second last year with a time 37 seconds off of Tyes. Kenya's Joshua Chelanga, who holds a personal best time of 2:07:05, possesses the fastest overall time among the participants. Added to this group is Ji Young-jun (Kolon), the Korean marathon runner with a personal record of 2:08:43.
The 34-year old Tyes, vying for his third straight win in the Seoul International Marathon, is one of the most dominant runners in the competition. Having participated in the Seoul International Marathon fives times since 2001, Tyes is familiar with the Seoul course. Though his times have been declining since his personal best time of 2:06:33 in the Tokyo Marathon in 1999, he earned recognition by recording 2:07:06 last year.
Kipsang is a newcomer by winning the 2003 Amsterdam Marathon with a time of 2:06:39. In last year's Amsterdam competition, he placed second with a time of 2:08:40, and is projected to be the main rival for Tyes.
Chelanga is a "late marathoner," recording 2:07:05 sec last year at the Berlin Marathon at the age of 31. His speed in a straight course is projected to improve to a projected 2:06 marathon.
Ji Young-jun's goal is to exceed Lee Bong-ju's Korean record (2:07:20). By focusing on speed during the winter training sessions, he is projected to be within the 2:06 time frame by competing with the world's athletes.
In the women's division, Jang Sujing, champion of the 2003 Donga Seoul International Marathon (2:23:17), last year's first place winner in the Chinese women's division, Zhao Qiunxue (2:23:28), and the winner of the 2002 Donga Seoul International Marathon, Wei Yanan (2:24:02), who has been released from a drug abuse incident, are projected to be at the top of the women's competition.
Jong-Koo Yang yjongk@donga.com