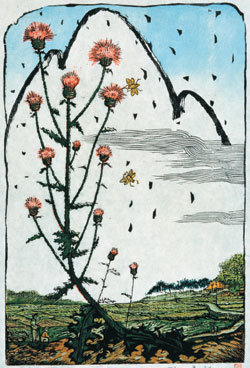 An idiosyncratic exhibition that considers woodblock prints as the alternative of modern art is going to be held from February 18 to April 3 (closed Mondays) at the Ilmin Gallery, Sejong-no, Jongro-gu, Seoul. Titled "Red Blossom: Three Nations' Modern Woodblock Prints in Northeast Asia," this exhibition will undo the stereotypical images of woodblock prints as rough hand carvings in black and white, and will introduce a new sphere of woodblock prints that surpasses the delicacy and brilliance of the counterpart paintings. Moreover, the exhibit will embrace the works of three nations' represented woodblock artists, so this is a splendid opportunity to compare the living culture of the nations through the visual medium of modern woodblock prints.
A woodblock print is a representative form of multiple arts, which can copiously print exact duplicates once various boards are made. This multiplicity feature of woodblocks has raised less attention regarding its contrasting rarity compared to the paintings that produce only one piece at a time. Kim Hee-ryeong, the chief curator at the Ilmin Gallery, states, "Nowadays, the original essence of paintings has been diluted due to their excessive abstracting tendency and the spread of various media. On the other hand, in addition to satisfying practical purposes through the means of numerous prints, woodblock artists are also trying to deliver splendid and delicate scenes on woodblock."
The three nations' woodblock prints at the exhibition represent each country's creative aesthetics. Chinese woodblock prints are as strong as the communication channel in the frame of realism aesthetics as they were the instruments for propaganda in the socialist country. In the series of "Transfer," Zhang Minjie, who succeeded in introducing Chinese woodblock prints as one of the modern genre of arts to the international art community, depicts the solitary mentality of people who long for freedom in various contexts such as within a circus troupe, soldiers in uniform, and so on. Additionally, you can enjoy Ban Ling's colorful images of 12 zodiac animals, Zha Ri-zen's diverse portraits of Chinese common people, and Li Wei's works expressing the insides of humans using flowers.
As the colorful Ukiyo-e (the woodblock prints in the Edo period) shows, Japanese prints are characterized by their delicacy and brilliance as well as the characteristics of using reasonable and practical materials. Celebrating the year of the rooster in the Chinese zodiac, Kawachi's prints express the meaning of freedom by portraying a group of roosters rushing out of the fences or the waves. You can also enjoy the works of Sakamoto, who expressed common subjects as simple lines on a pastel color tone, and Morimura's prints that gorgeously capture places in Japan. These artists' woodblock prints exhibit the full variation woodblock prints can exemplify.
The Korean woodblock prints on display will be the works of several artists who have captured the spirit of various woodblock struggles and difficulties due to its low popularity. The Korean artists represented are: Kim Sang-gu, Lee Sang-guk, Hong Seon-woong, Kim Joon-kweon, Ryu Yeon-bok, Jeong Bi-pa, Lim Yeong-jae, and Lee In-ae. Hong Seon-woong delicately portrays eminent Buddhist locations such as Ssanggye Temple, Miwhang Temple, and a Moonsu mountain fortress wall. Lee Sang-guk displays the scenery of the less fortunate urban towns located on the edge of the hills using simple and neat lines. It is also worth seeing Kim Joon-gwon's prints that depict wild plants with mild lines and colors.
There will also be a special exhibition on "Korea's Old Woodblock Prints of the Goryeo and Joseon Times" that will show original woodblocks and their prints. At this exhibition, you will have a chance to see treasures such as the scripts of the Diamond Sutra (Treaure No. 877), the Saddharmapundarika Sutra (Treasure No. 1306), Suseonjeondo (Treasure No. 853), and various books, maps, and flower-shaped woodblock prints for book covers gathered and displayed together for the first time.
In addition, there will be a series of lectures on woodblock prints: Ban Liwei's (a woodblock artist and art critic) "Chinese Modern Woodblock Printing" lecture on February 18 (1:30 p.m.), Masuyama Dasuo's (editor of "The Art of Woodblocks") "Japanese Traditional and Modern Woodblock Printings" on February 19 (1:30 p.m.), and "Korean Woodblock Prints' Trends Over Time" by Professor Lee Tae-ho at Myongji University on March 11.
The closing time of the gallery will be extended to accommodate working people who wish to view the woodblock prints following their workday. Hours of opening are Tuesday through Saturday from 11:00 a.m. to 9:00 p.m. (the special exhibition exclusively closes at 7:00 p.m.), Sunday and holidays from 11:00 a.m. to 7:00 p.m. Admission ticket prices are 3,000 won for adults and 2,000 won for students. Reference number: 02-2020-2055
Mun-Myung Huh angelhuh@donga.com