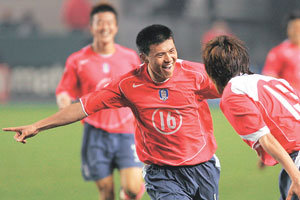 "Good on offense but questionable on defense..."
The Korean national soccer team, currently in training in the U.S., failed to notch its first victory in the new year, but fought toe-to-toe in slugfests with world soccer powerhouses and brightened their hopes to advance to the main round of the World Cup for the sixth time.
In the team's evaluation match against Sweden held at Los Angeles' Home Depot Center on January 23, Korea took the lead with a goal by Jung Kyung-ho (Gwangju), but Korea allowed an equalizer to Marcus Rosenberg and ended up with a 1-1 draw.
In the three evaluation games, Korea ended up with a record of two draws and one loss.
Ranked 21st by FIFA, the Korean team was ready to enter the next level in field training games against 13th-ranked Sweden and other highly-regarded teams, including Columbia (ranked 26) and Paraguay (ranked 29).
The Korean team showed a strong offense and netted goals in each of the evaluation matches.
Head coach Johannes Bonfrere, who put Jung Kyung-Ho (Jeonbuk) and Namgung Do (Jeonbuk) into the starting lineup in the team's first evaluation match against Columbia on January 16, tested the play of Lee Dong-kuk (Gwangju) in the match against Paraguay. Against Sweden, he substituted Lee Dong-kuk, Jung Kyung-ho, and Nam Namgung Do in an attempt to find the perfect offensive combination.
Bonfrere's moves showed that young players are the core of his strategy even though he is discovering that they still lack goal-scoring abilities in crucial moments.
Defensive issues still remain. The defensive line of Yoo Sang-cheol (Ulsan), Park Jae-hong (Jeonbuk), and Kim Jin-gyu (Jeonam), with Kim Tae-young (Jeonam) and Choi Jin-cheol (Jeonbuk) on the bench, showed its inexperience by allowing scoring opportunities because of absurd mistakes, and by allowing penalty shots through unnecessary fouls.
"The has team improved as a whole. I`m satisfied with our overall performance, but a couple of players have shortcomings to work if we are to advance to the final preliminary round," said Bonfrere, hinting that he will be strict in his evaluations.
The national team will return on January 26 and will be re-summoned around January 31 for another evaluation match against Egypt on February 4.
Sang-Ho Kim hyangsan@donga.com