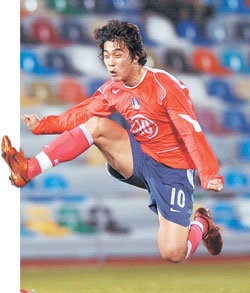 In the game between Korea and Ukraine of the U-23 Soccer Tournament held in Qatar, Par Joo-young led the team's 3-2 victory by recording a hat trick. He had scored five goals in two games, including the two goals he scored on the match against China on January 16. It was the first time that Park Joo-young has recorded a hat trick in an official international tournament.
The soccer experts are saying that Park Joo-young's fast improvement is amazing. Coach Byun Byung-joo, who used to teach Park in high school, said, "I knew he would do well, but I certainly didn't expect him to improve this fast. If he goes on this rate, wouldn't he be like Ronaldo (29, Read Madrid) who is the best offensive player still active."
Park Joo-young is similar to Ronaldo in many ways. First, he is similar to Ronaldo's fast speed and fabulous tricks. Park practiced the basic skills in Rio de Janeiro's Zico Club, where Ronaldo is from, for a year.
Although it was only a year in Brazil, Park Joo-young, whose IQ was over 150 in high school, learned the essence of Brazilian soccer and finished the Zico Club's program with top-level records. Coach Byun said, "Park Joo-young is very clever and he learns more than what he is taught."
Also, the way that Ronaldo and Park Joo-young score is similar. There are two types of offensive players. The first is the one who hangs around near the goal posts and scores without missing chances when they receive passes, and the second is the one who creates his own chances to score using techniques and speed. Among the two types, Ronaldo and Park are the second type. Gerd Muller (Germany) who was the top scorer in the 1970 World Cup Mexico, Paolo Rossi (Italy) who was the top scorer in the 1982 World Cup Spain, and Skilachi (Italy), the top scorer in 1990 World Cup Italy are players who score a lot based on goal decisiveness. The top scorer in the 2002 World Cup Korea/Japan, Ronaldo, and Park Joo-young are multi-faceted players who are capable of creating goal chances and making great assists which make the defenders powerless.
Kim Joo-sung, a member of the international committee in the Korean Football Association, said, "Although it's difficult to compare a teenage player like Park Joo-young to a top soccer player like Ronaldo, there are some points that Park is even better at." Although Ronaldo is fast in reaction time and has strong power, Park is good at kicks and has sincerity when in training.
Hwang Sun-hong, a former national team soccer player and currently a coach with the Chunnam Dragons, said, "If Park gains more strength trough steady training, it's only a matter of time for Park to become an international star player.
Soon-Il Kwon stt77@donga.com