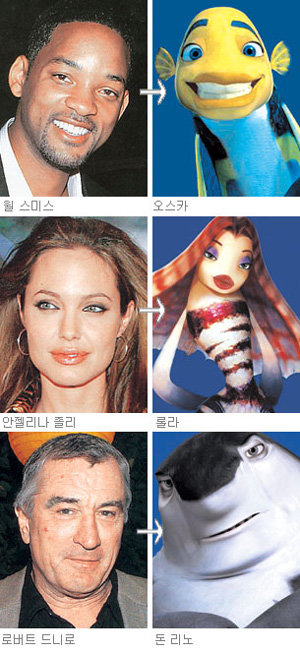 The creatures in the animation "Shark Tale" (Korean title: Shark) start walking about using their tail fins as feet in critical scenes. It's a minor detail but it is evidence that Pixar's Shark Tale is radically different from its previous effort, "Finding Nemo."
Shark Tale doesn't attempt to delineate human characteristics in a world of fish. Rather, it has borrowed the subject of fish in order to satirize human society, and rather scathingly at that.
The all-powerful godfather of all sharks Don Lino (Robert DeNiro) has a problem. His second son Lenny (Jack Black) is much too delicate. As Lino's violent oldest son Frankie dies in a freak accident one day, little Oscar (Will Smith) who happened to be at the scene, takes credit as the fish that won the fight with the shark. Dreaming of rising up the social ladder, Oscar, who works at a "whale wash," plots with the sensitive Lenny by faking a shark attack. Pride hurt, Don Lino announces a face-off with Oscar.
The real hero in Shark Tale is in the parody itself, which twists the characters and incidents in real life without mercy. That is why the movie is understood by how much prior knowledge the audience possesses.
Don Lino, Oscar, Lenny, and Oscar's sweet girlfriend Angie (Renee Zellweger), the femme fatale Lola (Angelina Jolie), who attempts to seduce Oscar, and the mean-spirited boss/puffer fish Sykes all resemble their voice actors (or directors) in face and expression. The sparkly and lightly fluttering fins of Angie and Lola display the ever-advancing techniques of today's 3D animation.
There are many parodies that satire capitalist society in Shark Tale. The city that resembles New York's Time Square displays the flashing signboards of Fish King, Coral Cola, and Gup. The aptly named Don Lino even receives a kiss on the hand from his cronies, much like in the movie "The Godfather."
As in Oscar's words, "I work my fins off but I just can't escape being poor," Shark Tale targets the phenomena of the poverty gap and social stratification inherent in capitalism. Oscar, who is taken with rap and hip-hop, and practices the African American-styled handshake, dreams of living in a penthouse with a view, but it is a long path to overcome the heartless food chain of the fish community. The TV newscast (Anchor Katie Couric of NBC's Today Show features in this scene) greedily spotlighting the hero is a sarcastic remark against the commercialism of today's media, and the puffer fish Sykes' move in angling for a management contract with Oscar is a depiction of today's crass show business.
Opens on January 7. Rated PG.
Seung-Jae Lee sjda@donga.com