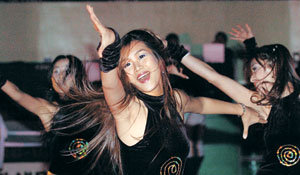 She can't hear well. Her left ear is almost deaf and so is her right one. You should speak loudly when talking to her. There are some instances in which you have to pat her on the shoulder since she cannot recognize when she is being called.
Bae Soo-hyun, 20, is a cheerleader for the SK professional basketball team. She has an impaired hearing ability, yet is known as a "dancing queen" among the cheerleaders.
In every SK home game at Jamsil Students' Gymnasium, Seoul, she displays her solo performance, a privilege unique to a dancing queen. She excites the crowd with her exhilarating dance to "My Name" by BoA. She is so popular that dozens of her fans are with her everywhere she dances. In fact, she's a newcomer in the field as she has been dancing professionally for only 19 months. Yet, she is said to be among the top few of the 80 cheerleaders among 10 professional basketball teams.
Then, how can she dance to the rhythm when she has poor hearing? Luckily, she has no difficulty in dancing as the music is played very loudly on stage. The problem rises when she practices dancing in tandem with her fellow cheerleaders. Ms. Bae spilled her know-how, "I peep other dancers' dance or keep the rhythm in my mind."
There are some occasions, however, when she faces trouble in her dancing. Park Bo-hyun (26), leader of her team at HS Com, a performance organizer, said, "I feel sorry when I see Soo-hyun dance alone without music even after our group practices."
Bae Soo-hyun has liked dancing since she was young. Most of her friends are the ones she met while dancing in hip hop clubs. In June 2003, she went to a cheerleaders' dancing room to audition, disguising her hearing impairment.
Her fellow cheerleaders note that they had no idea for a while that Bae couldn't hear well, as she is such a lively, cheerful person who didn't reveal her disability. That explains why they teased her and called her "Sa-o-jeong," meaning a person who can't recognize others' words well, for fun whenever she spoke and reacted somewhat awkwardly during conversation.
Ms. Bae earns somewhere around one million won a month. She was admitted to a junior college and studied dancing there with her savings. In fact, she had to give up on her dream to study at a college because of her family's economic hardship. She also pays for the hospital expenses of her mother, who is suffering in the wake of uterine cancer.
Her boss, Ms. Park, is astounded at Bae's incessant efforts, saying, "Soo-hyun works like a beaver. Other team members practice for three to four hours a day, yet Soo-hyun does a whopping six hours. She comes out here to dance one hour sooner than the others and practices again even after our scheduled time."
Her dream is to receive professional ear surgery and become a world-renowned choreographer. She looks sorry for her condition, noting she was diagnosed to have an impaired left ear as second grader at elementary school, yet has no idea how her present condition is or whether her ear can be treated.
However, Bae sounds undeterred, "You can mature only after going through hardship. I experienced a lot of mishap in the past, yet I am sure good things will happen to me from now on."
She is now dancing "a dance of hope."
Chang Jeon jeon@donga.com