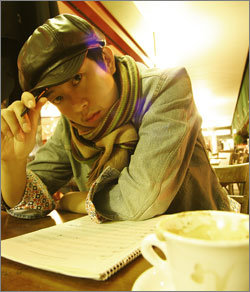 "I like R&B, soul and pop. But I agonize over how to make my unique color from those genres." Then, what may the unique color of Yoon Gun be? The answer is "sad but not crying."
Singer Yoon Gun (27), who first debuted as a member of "Brown Eyes," released his second solo album. His songs are featured as "sad but not crying." The singer describes the feeling his music evokes as "smiling while weeping."
Yoon tried to mix R&B and unique Korean sensitivity in his new album. The tone and lyrics of the songs are sorrowful, but the melody is pleasant. You can also feel the groove from the music.
He tries to make this unique music through measured vocals. The sobbing voice is not falsetto, but his real voice. This means he does not overly express sorrow in his songs. In the same vein, he filters excessive emotion by adding electric effects to the acoustic sound of piano and guitar.
"It is important to deliver consistent feelings throughout an album. In other words, as the melody, vocal, and lyrics of a song give a 'sad but not crying' feeling, the album as a whole should do the same."
He composed all 10 songs in the album. The title song "Let's Separate" is the theme song of the drama "A Sad Love Song," which is scheduled to be on the airwaves next January on MBC TV. The music video of this song, featuring top stars like Kim Hee-sun, Gwon Sang-woo and Song Seung-hun, cost a whopping 1.2 billion won for production.
"Let's Separate" is a song about the moment a lover says good-bye. Yoon said the main theme of the song struck him about a year ago while he was waiting for an elevator in his apartment. Melody of violin added to piano and guitar increases the sorrow, but the rhythm is quite delightful.
He wrote both the music and lyrics of "Can be a better man now," a lounge music which shows the harmony between Bossa Nova rhythm and electric sound. "Bad Girl" is a hip-hop song featuring Australian female rapper Sapphire. The song is oriental in nature as it is composed with the five musical scale that traditional oriental music used. "Maybe I can endure" is a music inspired by "When you and I were young, Maggie", a famous American song. The song is played solely on the guitar by Ham Choon-ho, a well-known guitarist. Other songs like "Our Sweet Memories" and "Remember me- With You" deliver the "sad but not crying" sensitivity perfectly.
"I invested a lot in equipment to enhance sound quality and practiced singing a lot to deliver lyrics effectively," Yoon says. "I think I'm finding my unique color."
Yoon is busy these days making OST album of "A Sad Love Song," scheduled to hit the market next January. He declined to appear in his music video, as he did with "Brown Eyes."
"There's no specific intention. I just still feel unfamiliar with TV, which I think is unrelated to songs."
Sun-Woo Kim sublime@donga.com